2013 Dodge Dart will feature wireless charging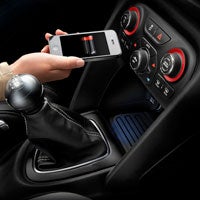 Today Chrysler announced that it would offer in-vehicle wireless chargers. The device, which comes out of Chrysler's aftermarket division, Mopar, will be available for the 2013 Dodge Dart, which will debut in the second half of 2012.
"At Mopar, we look for every single opportunity to make our customers' lives easier," said Pietro Gorlier, President and CEO of Mopar, Chrysler Group LLC's service, parts and customer-care brand. "Our industry-first in-vehicle
wireless charging
system is the perfect solution for those connected customers who are always on the go."
The accessory feature will retail for $199 plus installation. When installed, it is seamlessly integrated into the bin that sits in front of the center console, underneath the head unit and climate controls in the center stack. The unit will come with a special phone case that will allow your device to be charged whenever the vehicle is on.
For techies and mobile enthusiasts alike, the 2013 Dodge Dart is also slated to feature vehicle-information apps for customer's smartphones, Electronic Vehicle Tracking System (EVTS) that is able to text an owner when the car is driven too fast or outside a designated area, the ability to turn the vehicle into a Wi-Fi hotspot, and WiTECH wireless vehicle diagnosis.
source:
Chrysler