1G, 2G, 3G, 4G: The evolution of wireless generations
30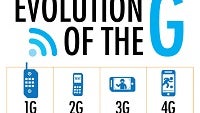 From the roots of analog based first generation service (1G) to today's truly broadband-ready LTE networks (now accepted as 4G), the wireless industry is on a path that promises some great innovation in our future.
Technology from manufacturers is advancing at a stunning rate and the wireless networking is tying our gadgets together with the services we demand. In just the past 10 years, we have seen an astonishing evolution of wireless service we use every day.
With the exponential evolution, there has been equally exponential growth in use of the services, taking advantage of the recently available bandwidth around the world. This year, we saw data usage around the globe exceed 1 exabyte in a month. 1EB is the same as 1 billion gigabytes, 1,000,000,000GB. That is a lot of data no matter who is using it.
It should surprise no one that the smartphone revolution is fueling this growth, and by 2017, half of all mobile devices in the world will be smartphones. The key to keeping users happy is network performance and good value for the money.
From the looks of it, we are on track to seeing continued network performance improvements and increasingly easier access to smartphones as developing markets hop on the bandwagon.
sources:
CommScope
via
BGR

Recommended Stories