1,667 pixels-per-inch: Hands on with a micro OLED bi-directional display
23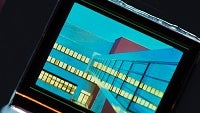 When we talk about displays and mobile devices, it is common to think about Samsung, LG, and Japan Display (JDI) as the leading manufacturers of cutting edge display technology.
Indeed, Samsung is the current darling of mobile displays, as the panel on the
Galaxy S6
and
S6 edge
is simply a sight to behold. The 5.1-inch display is packing a class leading 577 pixels-per-inch, has great contrast, and it gets amazingly bright for outdoor use as well.
As great an execution of technology the Samsung display is, you know there are teams of engineers looking to push the envelope even further. Not only are these companies looking to increase resolution to new levels, but also expand the functionality and scope of the displays.
One area where this is going to be a hot issue is within the sector of augmented reality (AR). As wearables become more prevalent, AR will find more and more use cases for businesses and consumers. Small, high-resolution displays are part of that equation, and that is one area where the Fraunhofer Institute, based in Dresden, Germany, is developing remarkable technology. The Fraunhofer Institute is part of the Fraunhofer Society, Europe's largest applied research organization specializing in health, security, communication, energy, and the environmental applications.
To that end, the Fraunhofer Institute has created a miniaturized OLED display with SVGA (600x800) resolution measuring just 0.6-inches diagonal. That provides a pixel density of 1,667 pixels-per-inch.
1,667
.
That specification alone is pretty impressive, but this panel is more than a simple display, it is a bi-directional unit. That means it has the ability to produce and record images. This is due to a unique pixel set-up. Rather than a four-subpixel RGBW (red, green, blue, white) arrangement, this display from Fraunhofer has five subpixels. The fifth subpixel is a photo diode, adding an imaging sensor.
In addition to detecting light (and displaying such light as we show in the video below), that photo diode can also serve as a means to detect eye movement in an AR or VR environment.
Fraunhofer does not discuss the companies that engage with its research, but when we asked and mentioned all the usual suspects in the display space, there was that just-pregnant-enough-pause before the "no comment" that we feel pretty good in projecting that we will begin seeing this technology in various forms in the very near future. If you happen to be a developer and are interested in exploring this technology, check the reference link below to go to the Fraunhofer Institute's site for more information.
reference:
Fraunhofer Institute