10 clear, slim cases for the HTC One M9 that protect its metallic sheen without disguising it
5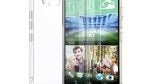 Although the HTC One M9 packs enough metal in its build to impress a medieval knight, this fact of considerable premium-ness doesn't make HTC's hero phone any less susceptible to the impact of daily grind. Scuffs, scratches, scrapes, and other forms of damage manifest on its glistening shell and ruin its handsome looks if you don't take good care of it. And to give yourself peace of mind, we believe buying a case is in order.
If you want to protect your One M9 without compromising its appearance, we suggest clear cases. A clear case solves the problem of masking the M9's design sheen and offering a decent amount of basic protection. Some clear cases are just a transparent plastic mold, but there are others that combine clear plastic with TPU corners for enhanced shock absorption. What's more, clear cases run cheap!
So, here are 10 clear cases HTC One M9 owners should consider. Just tap the blue links in the slideshow, and they will take you straight to Amazon!