Sony Ericsson Zylo Review
20

This is a global GSM phone, it can be used with
AT&T
and
T-Mobile USA without 3G.

Introduction:
Sony's Walkman brand has given a lot to mankind, from the first mobile cassette player to the
Sony Ericsson Zylo
, which we are about to review. We have always liked the idea of having Walkman-branded devices (yes, we are old school), but how will the Zylo perform as a music-centered phone? Read on to find out...
Sony Ericsson Zylo handset
900mAh Li-Ion battery
Manual and quick start guide
Charger
Headset with microphone
Design:
The Sony Ericsson Zylo has the typical slider form factor we are used to seeing in many of the company's handsets, with rounded edges, and a slightly curved back panel, which makes it pleasant to hold. The handset is rather smallish, and to operate it with one hand, you have to support it the usual way with the pinky, or even the ring finger. Well, that's why nature gave us opposing thumbs, we guess. The Zylo is built well and the slider mechanism snaps back and forth with ease.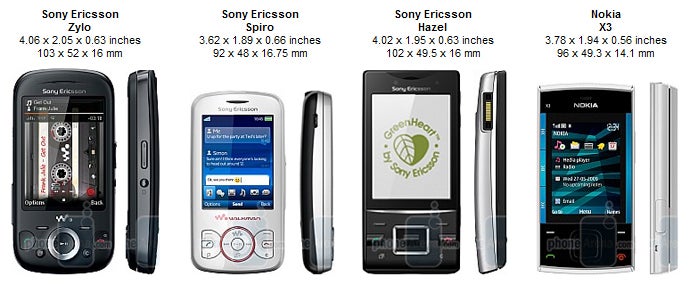 You can compare the Sony Ericsson Zylo with many other phones using our
Size Visualization Tool.
The
screen
is a regular 2.6" QVGA resolution display with average visibility in direct sunlight. The screen is able to display 262 thousand colors, and its glass cover is rated as scratch-resistant. No touchy-feely here, operating the UI is done mainly by the six buttons and the circular d-pad under the screen. The send and end buttons on both sides are decently sized and easy to press, but the two soft keys and the two little activity and clear keys are extremely small, and with shallow travel. The navigation ring of the d-pad is not the most correct of them all either, but you get used to it after some time with the phone.
Pushing the screen part up reveals a traditional
numeric keypad
with a smooth plastic feel on the buttons. They are fairly large and really easy to press with deep travel.
As a typical Walkman series phone, the Sony Ericsson Zylo has a dedicated button to fire up the music player on the right, just below the volume rocker. The Walkman key is also utilized as a camera button, but you have to start the camera software from the menu first, again annoying. The only other element around the phone is the charging/headset port on the left. The company is still bothering us and itself with proprietary connectors, so you will have to buy an adapter cable if you want to use another headset.
The 3.2MP camera on the back is also a video recorder without an LED light to it (or any sort of light). There is a chrome-like band surrounding the Sony Ericsson Zylo, but our review unit was the silver version, so it didn't make much distinction. The chrome color would stand out better on the black or the pink versions of the Zylo.
Sony Ericsson Zylo 360 Degrees View: