Samsung Replenish Review
3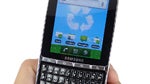 Introduction:
When it comes to technology, there's no arguing that cell phone manufacturers are at the cutting edge, but there are still very few that are mindful about being eco-friendly in terms of production and distribution. So far, Sprint seems to be one of the more prevalent carriers offering green-friendly devices on its lineup – but up until now, we've been presented with nothing more than simple QWERTY based messaging phones. Happily, the affordable
Samsung Replenish
SPH-M580 is finally here not only carrying along some environmentally friendly initiatives with its production, but it also brings Android goodness in the form of a portrait style QWERTY device. Affordably priced at $50 on-contract, let's hope that the experience is acceptable for this eco-conscious entry-level smartphone.
The recycled package contains:
Samsung Replenish
microUSB Cable
Wall Charger
Get Started Guide
microSD card adapter
Design:
Almost just as hefty as some landscape style QWERTY devices out there, like the
Samsung Transform
, the Samsung Replenish is extraordinarily longer than some of its brethren. Still, it's manageable to hold in the hand without feeling too unwieldy, though, its recycled black plastic exterior radiates somewhat of a cheap feel – yet, it's helping out the environment either way. Meanwhile, the chrome accents around the handset give it a little bit of personality, but either way, it still looks and feels much like any entry-level handset out there.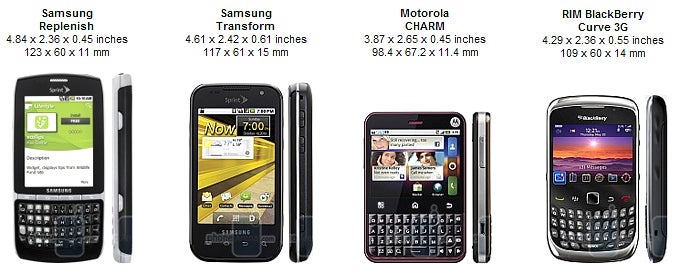 You can compare the Samsung Replenish with many other phones using our
Size Visualization Tool
.
Almost expected at this point, especially considering that it focuses on being a green device, the handset features a paltry
2.8" QVGA
(320 x 240) display with support for 16.7 million colors. Obviously tiny and rather pixelized looking, it's nowhere as sharp looking as we'd like, while color production with it is on the bland side. Moreover, it has some poor viewing angles which not only makes it difficult to view under the sun, but even tilting the handset slightly, it washes out the display to the point of making whatever is on-screen indiscernible.
Regarded as a rare sight amongst Android smartphones still, we're presented with physical Android buttons with the handset that are sufficient in size and response. Below that, the handset's
4-row portrait style QWERTY
keyboard follows in style to what's seen with the
BlackBerry Curve 3G
. Relying on some tiny looking hard plastic keys, which are somewhat rounded towards the middle, they're distinguishable to make out with our fingers, while expressing a reasonable amount of tactility when pressed. Naturally, the cramped confines will make it a nightmare to use for people with larger fingers, but in our time using it, we didn't encounter many problems using it.
On the left
side of the phone, its chrome accented volume rocker is clearly distinguishable and well sized, while the dedicated shutter and voice dialer buttons
on the right
edge are both raised from the surrounding area – while offering a good amount of feedback when pressed.
Peeking
at the bottom
, both the microphone and microUSB port are positioned in their usual spots, and of course, the same can be said about the 3.5mm headset jack and dedicated power perched
on the top
area of the phone. Actually, the raised power button is prominent, and offers that exceptional response when pressed down.
Finally, the
2-megapixel
fixed focus camera is outlined with a chrome trim around it in the rear, with the speakerphone notches located in close proximity to it as well. Furthermore, removing the flimsy back cover will grant you access to its 1,600 mAh battery and spring activated
microSD card slot
– there's a 2GB preloaded in there. Interestingly enough, you can purchase the optional $30 solar charger that is used in place of the usual back cover. From what we're told, leaving it out to absorb some sun for about 1 hour will provide approximately 20 minutes of talk time. Yet again, this useful accessory goes to highlight yet the additional eco-friendly nature of the handset.

Samsung Replenish 360-degrees View: