Samsung Flight II Review
10

Introduction:
When the
Samsung Flight
soared into AT&T's lineup last fall, it was seen as your typical portrait QWERTY slider that didn't invoke too many glances with its ordinary and mediocre experience. Most recently, we saw the
Samsung Strive
burst out of the scene back in the spring to quickly capitalize on some of the few shortcomings found on the Flight with its better appearance. However, it looks like that Samsung is going into round two and giving the
Samsung Flight II SGH-A927
another quick opportunity, but let's hope that it packs more force behind its punch this time around though.
The package contains:
Samsung Flight II
Wall Charger
microUSB cable
User Manual CD
Quickstart Guide
Design:
First of all, gone is the portrait QWERTY style found with the original Samsung Flight, and instead, we're presented with a QWERTY landscape sliding one that doesn't deviate much to the chagrin of its predecessor's appearance. Sizing up almost exactly as before, we're once again not thrilled with the plastic nature of the handset – it just doesn't feel that durable. Granted though, it makes the handset extremely lightweight (3.5 oz) and almost unnoticeable in the pockets. With the rear cover, there is a chain link pattern on it to give it some appeal, but doesn't really invoke anything to sway its cheap construction. Overall, its design fails to make any lasting impressions, but then again, it should be more than acceptable for the younger crowd it's targeted for.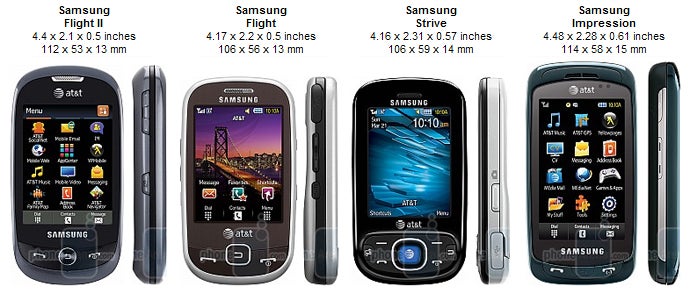 You can compare the Samsung Flight II with many other phones using our
Size Visualization Tool
.
With its more than adequate
3" QVGA (240 x 320) display
with support for 262k colors, we were very surprised to find that Samsung has decided to employ capacitive technology with this one, making the user experience way better than with a resistive screen. Still, it displays washed out looking colors suffers from some viewing angle issues – making it rather difficult to see in direct sunlight. Finally, text isn't the sharpest out there, but it's still recognizable from a close distance.
The dedicated
buttons
below the touchscreen are flush to the surface, but still provide for some very good feedback – these are the send, back/clear, and end buttons. Both the volume rocker and quick menu key are located on the left edge, while the microUSB port, lock/unlock button, and shutter key are found on the right side – with all of them being perfect in size and responsiveness. Considered a luxury for this handset's category, you'll find a 3.5mm headset jack solely on the top side. There are three notches on the rear cover for the speakerphone, while the 2-megapixel camera can be found next to it. As usual, yanking off the back cover will present you access to the SIM card slot, battery, and microSD card slot.
As we said, the Samsung Flight 2 decides to go with a
landscape sliding keyboard
that has a springy opening/closing mechanism. For AT&T customers, they'll probably be familiar with its style and look because it closely resembles the one on the Samsung Impression. It employs a 4-row layout that implements rectangular sized buttons which are faintly raised from the surrounding surface with consistent spacing in between them. Even though they have that hard plastic feel to them, they actually have a solid tactile feel when pressed. Finally, the only concern we have is the confusing look of the numbers on the QWERTY – especially when they're sized equally with the letters they're sharing the button with.
Samsung Flight II 360 Degrees View: