Samsung Diva S7070 Review
2

This is a global GSM phone. It can be used with AT&T and
T-Mobile
USA.
The Samsung Diva S7070 goes by two different names, the La Fleur (Russia) and Glamour (Germany).

Introduction and Design:
We have finally managed to get our hands on the
Samsung Diva S7070
, a handset of the Diva Collection 2010. Actually, the device is so very womanly that we believe it should be stigmatized by all self-respecting feminists' organizations worldwide. It is aimed at the fairer sex and people, enchanted by handsets with exquisite style and dainty appeal. At least that´s what the manufacturer says and demonstrates in every possible way. For an instance, the phone box is adorned with fake diamonds (that don´t quite look like the Real McCoy). So, what´s inside, except for the cell phone itself? There is a wall charger, headphone set, USB cable, CD and user guide. We tend to think that an elegant pouch to complement the accessory set would have been a great idea in this particular instance, although Samsung has decided this is irrelevant. Quite odd indeed, given previous models targeted at ladies, like the E500 and E530, did come with similar piece of accessory.
You might be thinking this is not a big deal really and while that´s exactly the case on many occasions, such an accessory is virtually mandatory for the Samsung Diva S7070, because the handset is almost entirely white and gets dirty fairly easy. Its back is one of the distinguishing features of the device, due to its unique, cool rugged (quilt-like) pattern that makes the handset truly hard to accidentally slip out of your hand. The diamond-shaped button that lends color to the front side is another, quite spectacular at that, design element. We do like the fact that you can press it just like any other key, because it features great travel and proved to be trouble-free to use.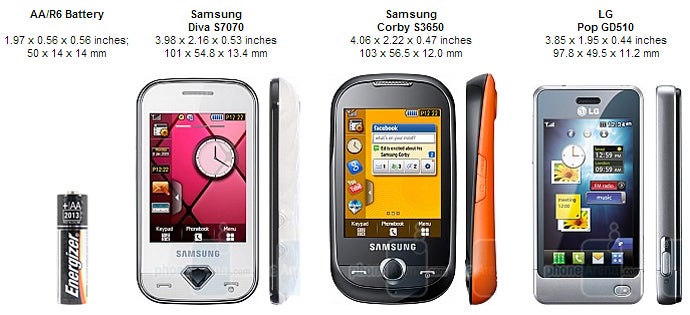 You can compare the Samsung Diva S7070 with many other phones using our
Size Visualization Tool
.
The
screen
measures 2.8 inches, comes with QVGA native resolution and utilizes capacitive technology. Sadly, its colors are rather thin and it is virtually unusable in direct sunlight. Still, the display sensitivity is decent and using it is relatively enjoyable on the overall.
The Samsung Diva S7070 integrates a microUSB port, but sadly, lacks 3.5mm headphone jack, meaning you won´t be able to just plug in your favourite earphone set right away.
Despite the fact Samsung believes the Diva S7070 is aimed at ladies only, we would rather define the device as "girlish". Our personal impressions make us think most women would probably shun the overly glossy and shiny Diva in favour of more stylish phones, say the LG New Chocolate BL20. Still, we cannot deny the handset is likeable and does have its own charm and appeal, although it is not anything to write home about really.
Samsung Diva S7070 360 Degrees View: Recommended Stories