OnePlus Buds Review
2
We may earn a commission if you make a purchase from the links on this page.
With the new Buds, OnePlus is looking to make a splash on the budget wireless earbuds market, much like the company did with its OnePlus Nord for the midrange smartphone market. But are the OnePlus Buds the best overall option out there? I spent time with both the OnePlus Buds and Apple's AirPods (2nd gen) in order to find out, while keeping in mind that the latter cost about $80 more.
Design and build quality
It's not a stretch to say that the case of the Buds is suspiciously similar to the AirPods case. Although the Buds feature a larger and more rounded case, the design elements between it and the AirPods case are one to one, especially if we look at their back sides. The circular sync button, the metallic hinge – it's all very similar. We've seen our share of AirPods clones in the past, so this is hardly a new thing, but it is noteworthy that OnePlus is also going for the AirPods design without even trying to hide it.
One area where the OnePlus Buds' case is notably different is its matte finish. In my opinion, it feels a bit grippier and looks more premium than the shiny plastic on the AirPods case.
The actual earbuds themselves are made out of shiny plastic, again very similar in design to the AirPods, but with thicker and slightly shorter stems. They also have larger tips that feature a unique design element – touch-sensitive "discs".
OnePlus says those "discs" are CD-inspired in design, and they definitely look nice, arguably the OnePlus Buds' defining feature. By default, the "discs" can be used for skipping tracks and answering phone calls, by tapping one of them twice or pressing and holding, respectively.
The earbuds fit snugly into their case with a satisfying magnetic snap, and don't feel any less premium than Apple's AirPods in that regard. The OnePlus Buds earbuds are also IPX4 splash-resistant, although the case isn't. That rating doesn't quite make them rain-proof, so it's best to keep them away from water altogether.
Connecting to Android phones and iPhones
The OnePlus Buds require a OnePlus phone for software updates and configuring touch gestures. They are however capable of connecting, and being used with both Android smartphones and iPhones via Bluetooth 5.0. The initial pairing process to both types of devices is quick and effortless, and I even found the OnePlus Buds a bit quicker to pair to my iPhone than the AirPods.
It's also a strong and reliable Bluetooth connection, as I was able to walk far from my phone without feeling even a minor skip. This was the case when using the OnePlus Buds with both an iPhone 11 and a Samsung Galaxy S20+.
However, often if the earbuds have been sitting outside of their case and I come back to use them, they won't both start playing. Only the right earbud would play music until I open and close their case, or tap the left one's "disc" a few times. It's an annoyance, and something to have in mind. This doesn't occur when the earbuds have been sitting in their case, thankfully, so it seems best to always put them back in it when not using them.
In-ear fit and feel
I've seen people complain about the lack of rubber tips on those earbuds, which can make for a looser feel, poor noise cancelling and generally worse sound if they fail to fit in a person's ear. In my case, however, the earbuds fit perfectly, and no amounts of head shaking would make them budge even remotely. Thus, I didn't experience any sound quality or noise cancelling issues.
Over time, however, the earbuds' larger size did start getting noticeable, irritating my ears a little bit. The AirPods are definitely slightly more comfy to wear for long periods of time, because their tips are smaller. In any case, those are all minor gripes. It may differ from person to person, but in my experience, the OnePlus Buds fit well and securely into my ears.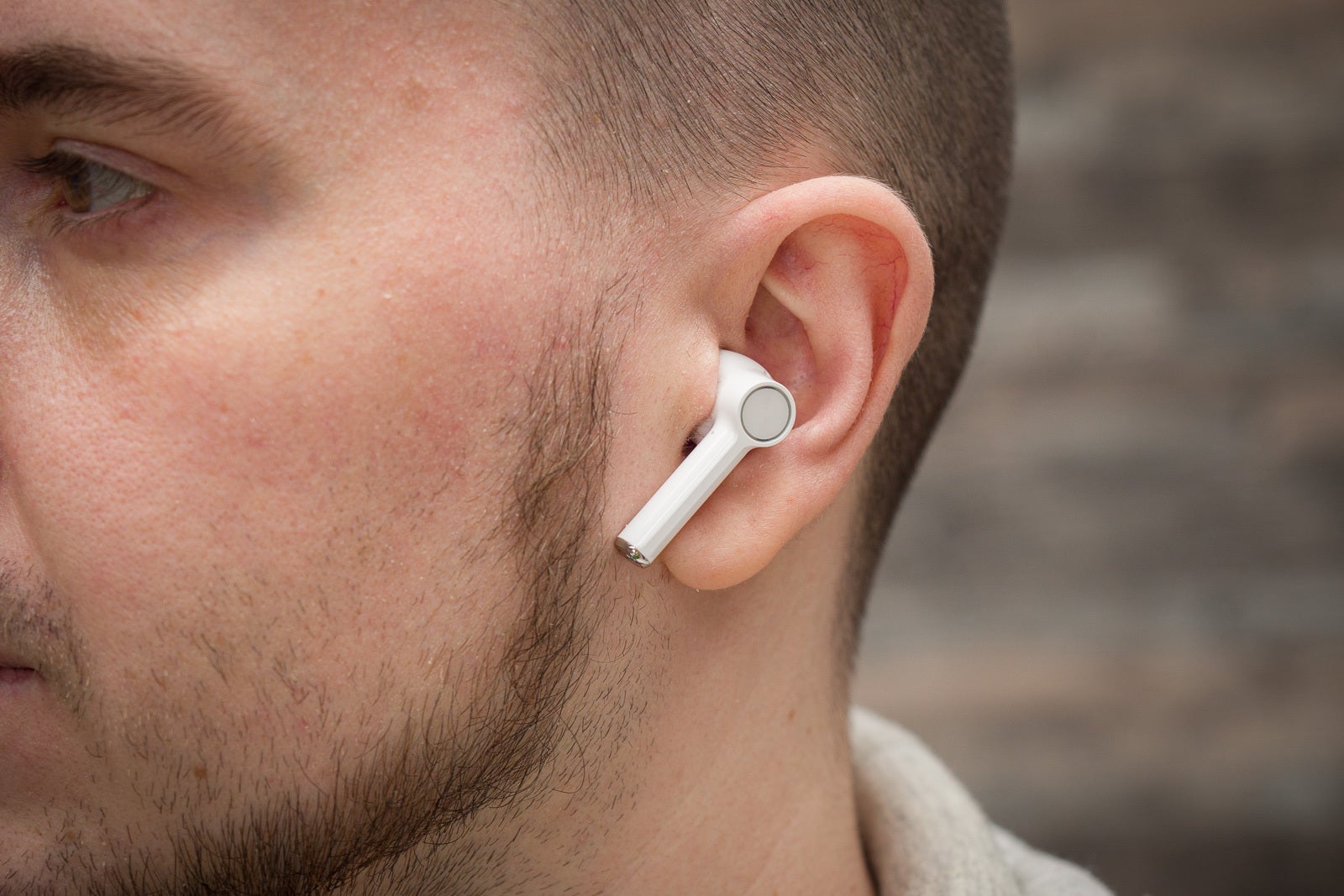 Sound quality and microphone
Switching between the OnePlus Buds and the AirPods left me impressed with how identical they sound. There is no audio downgrade here, despite the Buds' lower price. The sound from the OnePlus Buds is rich, clear and full, while the surrounding world is properly silenced thanks to the Buds' snug fit and their passive noise cancelling. Again though, it's important to note that others who tried the Buds didn't have the exact same experience. If the Buds happen to not fit perfectly in your ears, the sound quality and noise cancelling can be worse, and without rubber tips to choose from, you won't be able to do anything about it.
The bass on both the Buds and AirPods is about equal – not the strongest, but well present. It is very slightly cleaner and punchier on the AirPods.
All in all, the OnePlus Buds offer impressive sound for their price and form factor. They should satisfy anyone's music and podcast listening needs, so long as users have reasonable expectations for this form factor. And the Buds can get very loud, making them usable even in crowded environments and plane rides.
As for the microphone on the OnePlus Buds, it is good enough and gets the job done, although your voice won't be the most clear and full-sounding on the receiving end of a phone call. Although the Buds don't feature active noise cancelling, OnePlus says that they do have "environmental noise cancellation" which supposedly helps reduce background noise during phone calls.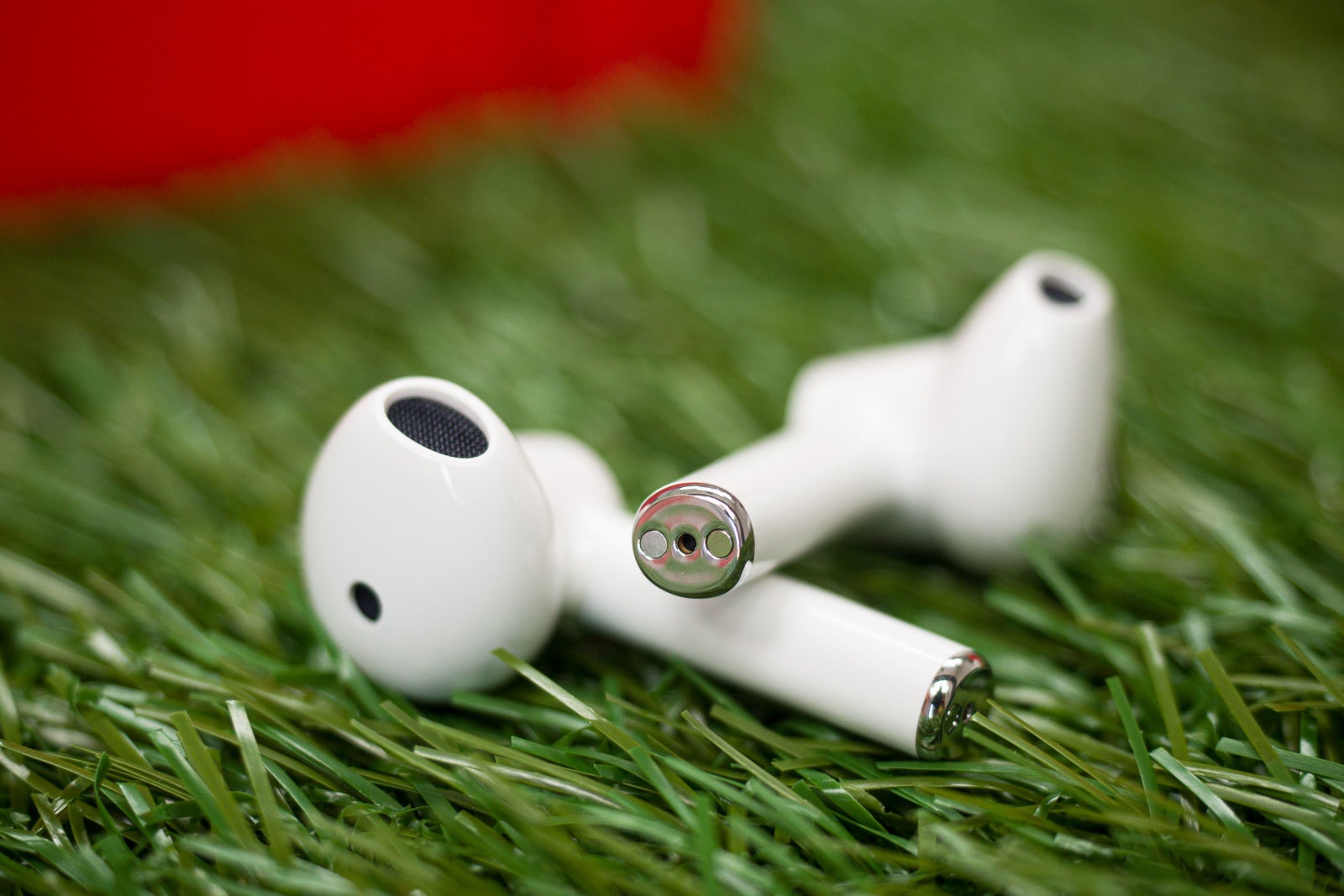 Controls
As previously mentioned, both earbuds feature little touch-sensitive "discs" that can be used for controlling your music. Although the Buds' touch functionality can be configured via a OnePlus phone, if you don't have one, you're stuck with their two default functions. Those are – double-tap a "disc" to skip a song, or hold it for a bit to answer a phone call. I would've liked at least a third gesture for repeating a song or going back to the previous one, but it's better than nothing. To pause your music, you simply take one of the buds out of your ear. Again, only with a OnePlus phone can you configure the two touch gestures to perform different actions, such as pause the music or activate a voice assistant, so if you don't own a OnePlus phone, you better be happy with the default actions.
It would've been nice if OnePlus had a dedicated app for the Buds, through which anyone could configure the gestures, but that's a minor gripe that may be addressed in the future.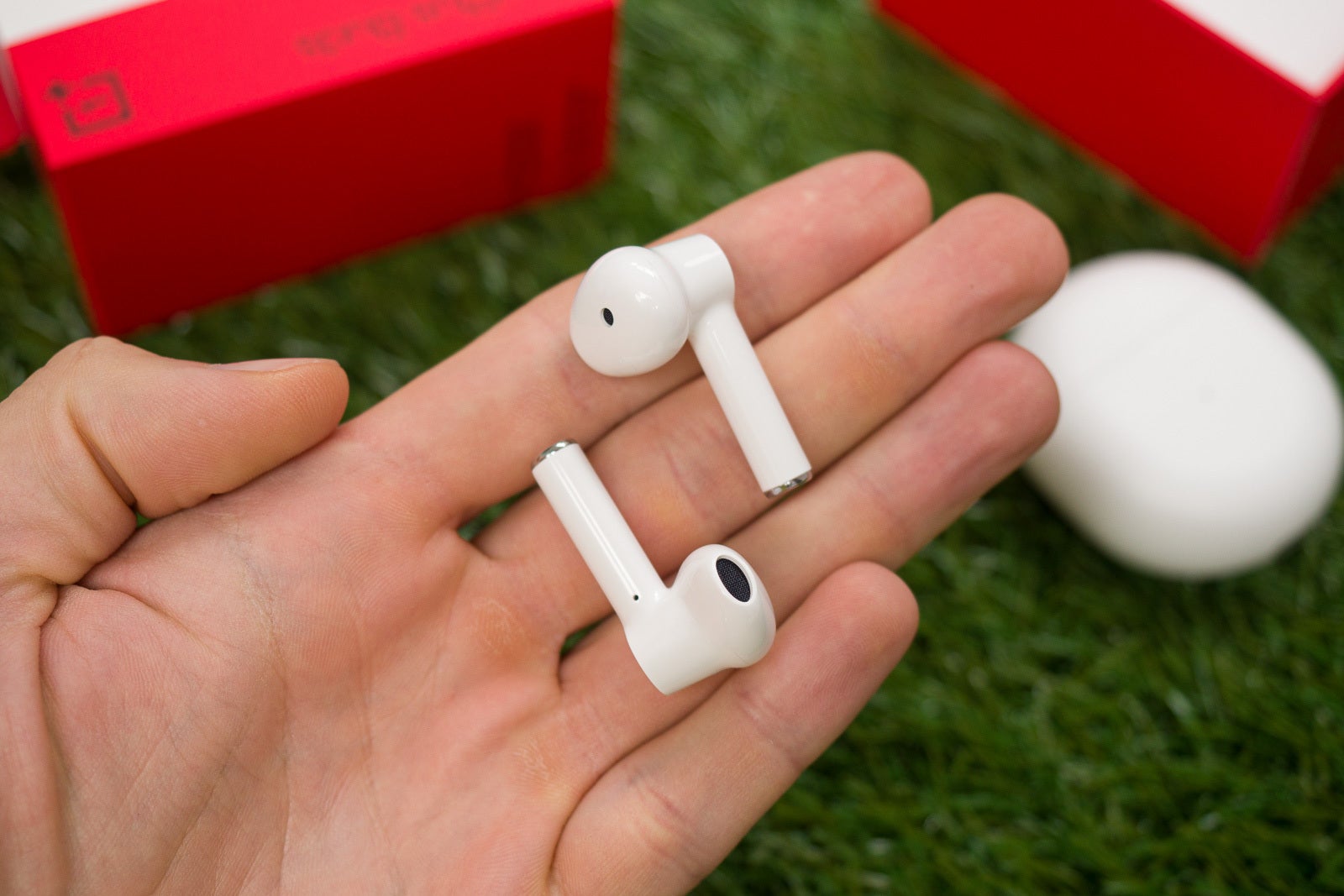 Charging and battery life
The Buds' case sports a USB Type-C port for wired charging, with a bit over an hour enough to fully charge the case and the buds. In their box is also a very short red charging cable, so Android users would likely just re-use their existing phone cable and charger for them.
You should be able to enjoy at least two full days of music, if not many more depending on how often you actually use the Buds. OnePlus claims up to 30 hours of battery life on a charge and that is no exaggeration. The buds themselves can last up to 7 hours on a charge, but each time you place them back in their case they will charge from it, which adds up to the aforementioned up to 30 hours.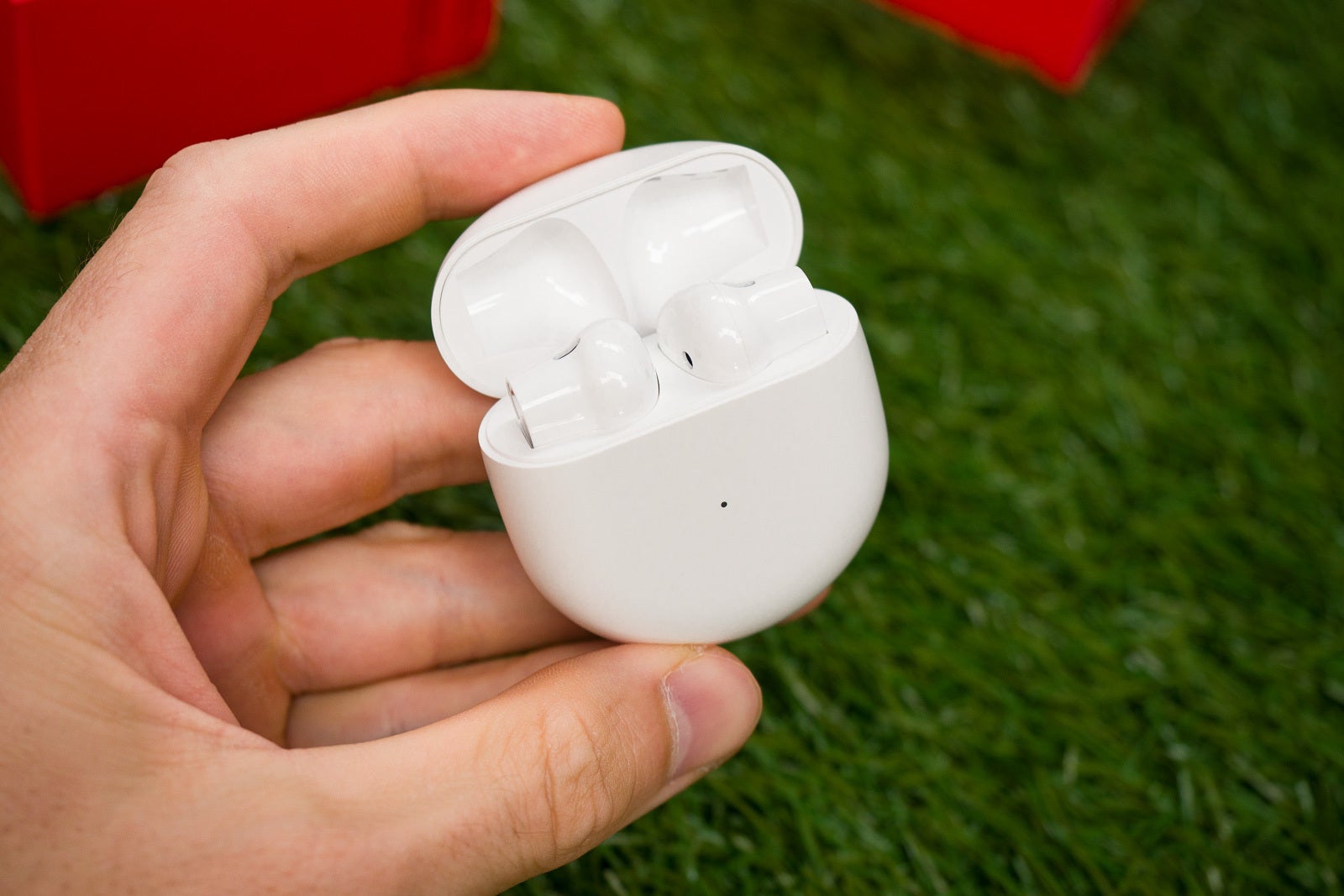 Should you buy the OnePlus Buds?
Do you need fully wireless earbuds that are well-priced and sound good? If so, the OnePlus Buds can be a solid choice over Apple's AirPods and their many other alternatives. Especially if you're already rocking a OnePlus smartphone, you'll do right to choose the OnePlus Buds. But you can also use them just fine even if you're with an iPhone, or any other Android phone.
It's impressive what OnePlus has managed to deliver for this price point, and a sign that the time has come for fully wireless earbuds to start getting more affordable and accessible to everyone.