Moga PRO Power Review
6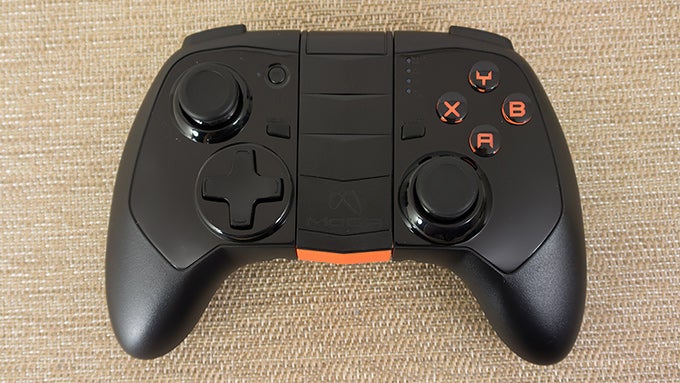 Introduction
Last year, one of the most notable gaming focused accessories that we reviewed was the
Moga Pro Controller
– a Bluetooth gamepad meant for serious gamers. It was something we regarded as a must-have item for anyone sporting an Android device, seeing that the gamepad eliminated the need to rely on a games' on-screen controls. Well, its popularity eventually brought on the development of its successor, the Moga Pro Power Controller. This year is looking to be a banner year for mobile gamepads, so will this one continue Moga's success in the space?
The package contains:
USB charging cable
MOGA Boost charging cable
Tablet stand
Owner's manual
Design
Unchanged for the most part, but it still has a home console-like controller feel.
Following after the success of its predecessor, the Moga Pro Power's design for the most part remains identical – save for a couple of minor aesthetic changes. Quite frankly, it looks like the XBOX 360 controller, which is a good thing because it has an ergonomic feel and an ideal button configuration layout. It's still constructed out of plastic, but there's enough weight to give it a very sturdy build quality.
We're sad to know that the rubberized grips on last year's Moga Pro have been removed, so the handles of the controller don't have as much of a grippy feel in the hand. Instead, it feels a bit more slippery due to the bare plastic casing of the controller. Aside from that, we have no other major complaints, mainly because it's exactly like a home console controller.
Just like before, it features two full-sized analog sticks that are precise and have great snapping feedback – the kind of thing we want to feel when moving around in a first person shooter. Additionally, its directional pad and 4 action buttons have the elements, like being raised and offering tactile responses when pressed, to enhance the gaming experience for mobile so that it's similar to a home console. Rounding things out, two shoulder buttons and two analog triggers are positioned in familiar areas so our fingers are able to quickly wrap around them.
Keeping our smartphones in place, its updated "SMRT Lock" arm is now able to accommodate larger sized smartphones – like the HTC One max and Samsung Galaxy Mega 6.3 to name a few. On top of a microUSB port that allows us to charge its internal 2200 mAh battery, there's a full sized USB port nearby to enable the charging of other devices using the appropriate cable.
Recommended Stories