Jabra Supreme UC Review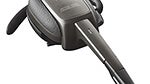 Introduction:
Multifunction devices are no doubt useful in many ways, aside from the obvious fact they're money savers, seeing you only need to buy one single thing as opposed to two. Well, the
Jabra Supreme UC
aims to do just that, as this Bluetooth headset is ready for the mobile experience on both your smartphone and personal computer. Priced at $149.99, it's indeed a premium priced Bluetooth headset, so let's find out if it's worth it in the end.
Design:
Simply, we're not too ecstatic over the design of the Jabra Supreme UC, mainly because of its larger overall size when compared to other streamlined and more inconspicuous looking headsets. Sure, it's lightweight enough to allow comfort for even prolonged usage, but above all, we detest its extremely loose fit. Specifically, the
ear hook attachment
just doesn't have enough grip to our ear, so it constantly jiggles around when we're moving. Despite that, it's still mildly decent with its overall build quality.
Since it lacks a firm grip, we find ourselves fumbling around trying to push down the headset's
physical volume controls
, which are nearly inaccessible since they're placed towards the rear. However, we don't have any problems trying to press down the large and tactile
multifunction button
that's prominently placed on its facade. Also, there's another button placed on the boom microphone for activating its
basic voice controls
. As for the rest, we like its
collapsible design
, which allows it to be carried around in the included carrying case.
Recommended Stories