The Vivaldi browser is (finally) available on Android
5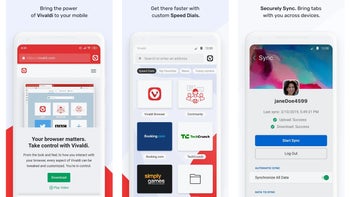 The browser space isn't exactly easy to get in, at least not when you're aiming for any significant market share. One of the bigger attempts in recent times came from Vivaldi, a company co-founded by Opera's former CEO Jon von Tetzchner.
Vivaldi prides itself in giving users a lot of freedom to tweak and customize the browser to fit their needs, but one of the biggest things that was missing was a mobile version. This was discouraging to many potential users of the browser, as it meant that there was no syncing between desktop and mobile. This changes now, with the release of the mobile version of Vivaldi.
Vivaldi is easy to figure out and use, and you should feel right at home when you first launch it on your phone. The URL bar is at the top, but a navigation bar, containing some often-used buttons, such as Back, Forward, and the Tab switcher, is located at the bottom of the screen, so as to facilitate one-handed use.
Other than that, it is a pretty standard package, in terms of features. The browser has speed dial, bookmarks, as well as the ability to duplicate and organize tabs, which is one of Vivaldi's core features on desktop. As far as sync goes between the two versions, as per
TechCrunch
, Vivaldi says that it doesn't use Google's servers (in case you were worried about being tracked by the big G).
If you were tempted to use Vivaldi on PC, but were discouraged by the lack of synchronization between desktop and mobile, you may want to try out the new Vivaldi browser for Android, now available on the
Google Play Store
.