Mophie's new power banks for the Apple iPhone, iPad and AirPods charge up with a Lightning cable
1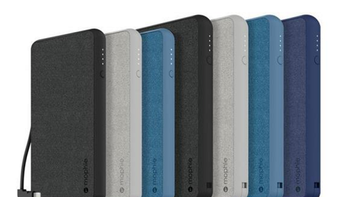 When you think external power banks or battery packs for your phone, the first name that probably comes to mind is Mophie. Today, the company announced a new range of power solutions for Apple devices that will be available exclusively from your local brick and mortar Apple Store, and the online Apple Store. These new products will keep your iPhone, iPad and AirPods running for a long time.
Unlike older Mophie power banks for iOS devices that required users to carry a USB cable to charge up, these new models replenish their battery power using an included 10W Lightning cable. This means that iPhone users with a Mophie power bank won't have to schlep around two cables and stuff them in their pockets, or briefcases.
"As Mophie continues to provide power for all people, devices and situations, the lineup of powerstation products brings new features to help users charge faster and more conveniently than ever before. The powerstation and powerstation plus lines feature a Lightning connector capable of accepting up to 10W, giving users the ability to recharge using the same cable that charges their Apple devices."-Robert Johnson, general manager, Mophie
The Mophie powerstation and powerstation XXL units each come with multiple USB-A ports so that up to three devices can be charged at the same time. The powerstation models ($59.95) come with 6,040mAh batteries to provide up to 20 extra hours of batter life. They are available in Indigo Blue and Millennial Pink. The powerstation XXL units ($99.95) carry 20,200mAh batteries to give users up to an extra 70 hours of battery life. The powerstation XXL comes in black.
The Mophie powerstation plus ($79.95) and powerstation plus XL ($99.95) are equipped with 6,040mAh batteries and 10,000mAh batteries, respectively. With two USB-A ports, a pair of devices can be charged at the same time. These models provide as much as 34 hours of extra battery life, and the powerstation XL can be charged using a Qi-enabled wireless charging pad. The powerstation plus is available in Heather Gray, Slate and Black. The powerstation plus XL is available in the same three colors and Deep Blue.
Each Mophie power bank will recharge your phone first, and then it will power itself up. You don't see such self-sacrifice in mobile devices that often.

source: Mophie