Apple to push revolutionary display tech in the 2020 iPad Pro... and it's not microLED
18
Last spring, Bloomberg reported that Apple is heavily investing into the development of a so-called microLED display technology, an alternative to both OLED and LCD panels that offers better contrast, higher brightness and lower power consumption than existing screens.
Thus, microLED sprung to fame thanks to reports that Apple has built a facility in California to research it, and eventually start producing its own displays for the iPhone, iPad,
Apple Watch
or Macs of the future. Unfortunately, the technology has been rather tricky to master, and Apple almost gave up on it, but its engineers eventually managed to find viability in the project, and Apple even set up its own lab in Santa Clara where 300 engineers experimented with microLED panels.
So, when are we likely to see Apple's microLED patents bear fruit in a commercial product? Not soon, but according to famed Apple analyst Ming-Chi Kuo, the company will
opt for
the bridge miniLED technology instead in an
iPad Pro
and even a MacBook with microLED panels "between late 2020 and mid 2021." Wait, what the heck is miniLED now?
Since microLED is still extremely tricky and expensive to produce just yet, manufacturers are eventually settling on miniLED as a transitional bridge technology, until microLED proves its bottomline mettle. What's the difference between the two? You guessed it, the mini-LED lighting elements are bigger than the sub-100 micron microLED ones, and yet much smaller than what we have in current displays. They are almost ready for mass production, such a panel would cost just 20% more than your typical backlit LCD, and is conducive to various flexing, notch-y designs that might be needed.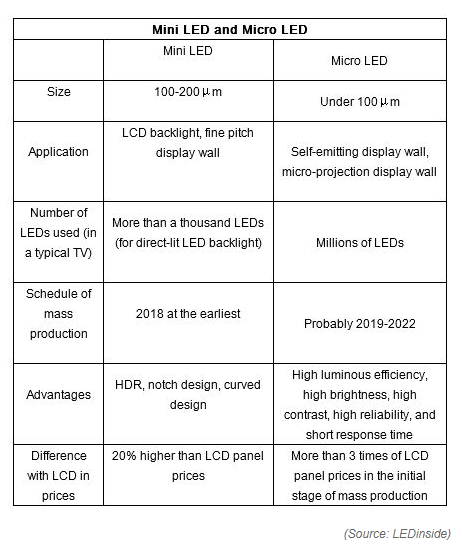 Previously, it was thought that Apple will use its Watch as a testing ground for the new microLED display tech next year. While that might still be the case in 2020, Kuo is now reporting that there will also be bridge miniLED devices coming from Apple. Given the high price of a larger microLED panel, Apple will equip its Pro line of iPad tablets and MacBooks with miniLED first, and then the technology may trickle down to the iPhone, but it won't be before 2021, apparently.
Back to Korea, it will be LG Display to give Apple first dibs at its miniLED displays, with extra suppliers being Epistar, Zhen Ding, Radiant Opto-Electronics, Nichia, Avary Holding, and TSMT - all companies that have been working on miniLED for a while.
In fact, Apple has applied for more than 30 patents on microLED display technology in Korea. Wait, what, isn't that Samsung and LG's home turf? As per Kim Jong-chan, chief of the Korean Intellectual Property Office's display device screening team: "
Apple's application here appears to be due to the presence of Korean tech firms, including Samsung and LG, which may use Micro-LED panel for their devices in the future
." You don't say.
Samsung already showcased a huge microLED TV wall prototype, but mentioned that the panels can potentially be produced with any size and on a much larger scale, paving the way for the potential usage in phone, tablet and laptop displays.
What's the rush, though, and why are the world's largest phone companies vying for microLED supremacy? Well, as we mentioned, the tech adressed all of the OLED disadvantages in one fell swoop - microLED screens are much brighter, while at the same time consuming less energy to display a unit of luminance, and don't suffer from the blue or any other LED degradation or burn-in issues.
Apple going miniLED for the iPad Pro and MacBook, and microLED for the Watch, would be a step in solving its display supply chain problems with alternative technologies that aren't as monopolized as OLED screens supplied by the likes of Samsung that cost an arm and a leg and eat into the iPhone and Watch profitability. We'd be very curious to gauge how good would an iPad Pro with miniLED panel be, but given that the technology is used in professional gaming and HDR monitors, great specs can be reasonably expected, as you can see from the review of the first such screen in the video here.