iPhone users gain the ability to check-in to events with Foursquare
1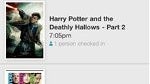 There's no arguing about it, but the
iOS Foursquare app apparently gets a lot of love
since it's once again getting first dibs with a new feature before anyone else.
Not surprisingly, Android and BlackBerry users are going to give the evil eye with this one, especially when we constantly see iPhone users getting new features first with
Foursquare
. This time around, the popular app for iOS allows iPhone users to check-in to specific events – like popular concerts, movies, and sporting events.
Rather than simply checking into a specific venue and shouting you're there because of some special event, the Foursquare app will provide addition information related to the event location. In fact, Foursquare is teaming up with popular names like ESPN, Movietickets, and Songkick to expand their database – and so far, it seems that they have compiled over
50,000 venues
in a matter of months.
Naturally, sharing your favorite locations is getting better for iPhone users, but it'll eventually become available to other platforms in the near future as well. In the meantime, Android and BlackBerry users will need to resort to doing the old fashion way.
source:
Foursquare