iPhone assembly workers at Pegatron work less overtime, still feel underpaid
35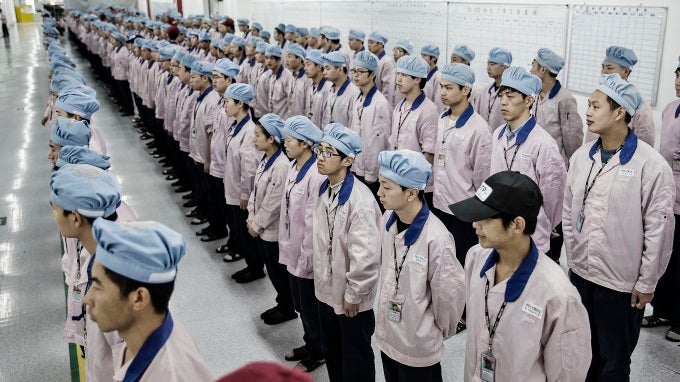 Photo by Quai Shen, Bloomberg.
Ever wanted to have a look inside one of the largest iPhone assembly factories in China? Tough job, as Foxconn and Pegatron's facilities are closely guarded, incredibly secretive, and hardly known for their media transparency. Bloomberg, however, managed to send a reporter inside Pegatron's factory outside Shanghai. Spanning the area of almost 90 football fields, the facility houses close to 50,000 employees.
Pegatron and Apple have been working to refute long-time accusations of unfair, downright hazardous conditions that Chinese workers are being subjected to, and are keen on showing their accomplishments to Western media. The manufacturer implemented a new ID system which tracks every worker's time, wages, and expenditures on dorm fees and lunch. It has helped to push compliance with the established maximum of 60 working hours to 97% in 2015, a 5% increase from the year prior.
Three years ago, much of the staff used to register unreasonable amounts of overtime in an effort to boost their pay, sacrificing their health and productivity in the process. Now, workers who come close to the 60 hour mark or have worked six days in a row have their attempts to enter production halls automatically blocked.
Apple manages to improve workers' conditions every year, but there's still that lingering feeling it should be doing better.
Alas, employees still prefer to work more hours because of low wages. According to data sourced from the ID system, the base salary of an employee who helped the others access the automated information terminals was 2,020 yuan ($310), while assembly line workers who pull overtime bring home 4,200 to 5,500 yuan ($650–$850). Most don't make enough to afford an iPhone 6s, which costs 5,288 yuan ($814) for the base 16GB model.
Around two years ago, Pegatron and Apple had to account for an undercover report by BBC investigator who came back with a positively disturbing story. The journalist claimed his ID was taken away, the safety and health exam was carried out verbally, workers are told to give their consent to night shifts or leave, and work days inside the factory often exceeded 12 hours. Clearly, Apple has kept true to its commitment of closely monitoring and improving the conditions for workers at Pegatron, although both companies can obviously do better.