iFixit's Apple Watch teardown is a marvelous tour of watchmaking in the 21st century
20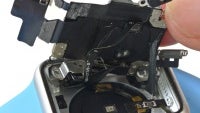 As Australians were lucky to receive their Apple Watch pre-orders right on time, gadget repair crack team iFixIt travelled to the distant land to obtain an early Apple Watch Sport unit and do what they do best with it - take things apart and take pictures of them. The staggering result is up for everyone to see!
Among iFixIt's more interesting discoveries are a covered-up diagnostic port that appears to be present on all Watch units, not just in-store or prototype models. Funny enough, this means the Apple Watch has exactly as many ports as the new MacBook! Moving on, it seems even the cheapest Apple Watch Sport has a bit of gold in it, as an unidentified antenna wholly made of the material is present. The Taptic Engine module is attached to the tiny speaker present in the device. This allows the speaker to, in a way, modulate the taptic engine's movement and create unique patterns. Also, the battery capacity is confirmed as 205mAh for one of the sizes, presumably the 38mm one.
Tearing down the Apple Watch has proven a complex, difficult procedure, because just about everything in it is so tiny. It's rare to see an electronic device, especially one that's being mass-produced in China, resemble an intricate watch mechanism to such extent. The iFixIt wizards haven't gotten to the display and other parts of the watch yet, but their efforts are quite impressive. Unfortunately, repair mechanics are poised to have a hard time repairing the Apple Watch with everything packed in so neatly, but we reckon they'd be eager for the challenge, which involves tri-wing screws and a wholly encapsulated S1 processor module. Unlike the motherboard of the Moto 360, for example, where individual components created by different suppliers can be clearly identified, the S1 chipset is completely masked by a plastic, S1-emblazoned cover. This way, Apple can take more innovation credit for technology it didn't entirely create, but assembled in a very particular way, analysts speculate.
So, there you go - gawk at the beauty of the electronics below, and praise iFixIt for their wicked disassembly work.