iCloud hits 300 million subscribers, iWorks now web-based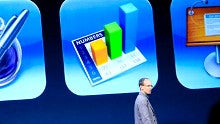 Apple's WWDC keynote is ongoing, and Cupertino just spilled some tidbits about its iCloud sky-high storage service. It seems that iCloud has hit 300 million users since its inception, which was not far off, and the statistics bandied about is that the same number was reached by Facebook for five full years.
There are 240 million active users in Game Center, "iCloud also has incredible scale," said Phil Schiller, and 800 billion iMessages as well as 7.4 trillion push notifications have been delivered so far.
The real reason for putting the focus on iCloud, however, seems to be Apple's iWork office suite, which now lets you edit spreadsheets and such in your web browser, and edit it on PC, Macs and any computer you'd like basically.