iAcoustic is a stylish amplifier for your iPhone and iPod touch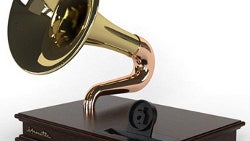 If you crave for the Jazz Age and the times when world class jazz musicians were jamming on the streets just for the sake of it, then you would surely love to own iAcoustic - a beautifully designed acoustic amplifier, which looks exactly like a good-old gramophone - with a real metal horn and a solid, high-quality wood.
iAcoustic is compatible with all iPhones released so far plus the iPod touch, and produces sounds of up to 60 decibels that are said to be deep and rich in tone.
Because it's acoustic, the amplifier doesn't need charging. Moreover, it works with most cases and bumpers, and you can use it as a standard docking station if you attach a USB cable to it.
You have to make personal enquiry to know the price of the iAcoustic, but, at the very least, it looks like a quality piece of furniture, although it promises to be much more than that.
source:
aBite
iAcoustic : Rebirth of Antique Gramophone from aBITE on Vimeo.