Google unveils new useful features for Google Maps
1
Google is constantly looking to improve Google Maps. No longer just an app that helps you get from point "A" to point "B" quickly and safely, Maps will now recommend places to eat, hotels to stay at, and fun things to do when you arrive at point "B." It will even show you landmarks to visit. And Google Maps will always show you where to get gas, a cup of coffee, groceries, and more.
Google unveils Immersive view to give you the lay of the land before you arrive

Today,
Google announced
some changes to its Maps app that make it more immersive when it comes to looking around to get the feel of a place or, as some call it, the lay of the land. Immersive view will combine Street View with aerial images and will show weather and traffic info on top to give users "a rich, digital model of the world."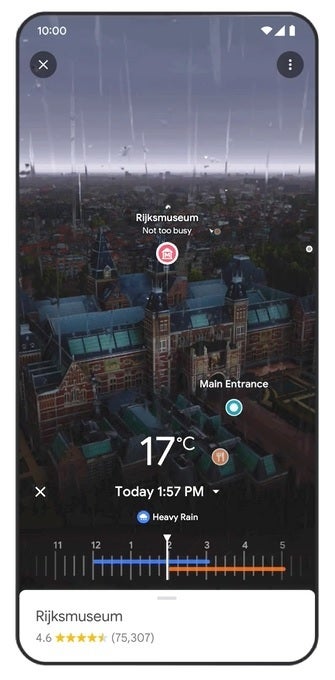 Immersive view, coming to Google Maps
Google gives us an example. "Say you're planning a visit to the Rijksmuseum in Amsterdam. You can virtually soar over the building and see where things like the entrances are. With the time slider, you can see what the area looks like at different times of day and what the weather will be like. You can also spot where it tends to be most crowded so you can have all the information you need to decide where and when to go."
Continuing with the example, Google adds, "If you're hungry, glide down to the street level to explore nearby restaurants — and even take a look inside to quickly understand the vibe of a spot before you book your reservation." Immersive view starts rolling out today (displayed in alphabetical order) in London, Los Angeles, New York, San Francisco and Tokyo.
Google's AR-powered Live View takes a live feed from your phone's camera and layers huge arrows and other information on top to help those walking get to their destination while at the same time, pointing out interesting buildings and landmarks around them. A couple of years ago, Google added Live View to indoor locations such as airports in the U.S., Zurich, and Tokyo (not displayed in alphabetical order). The feature helps travelers roaming an unfamiliar airport find the bathroom, car rental stands, lounges, and more.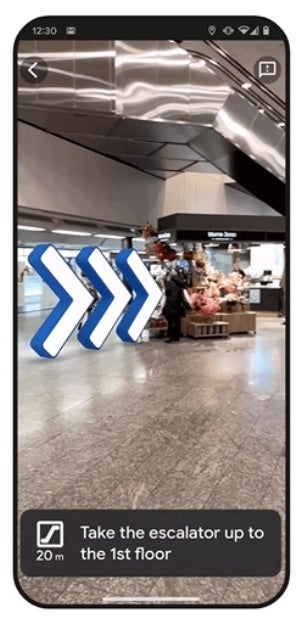 Live View will soon be available in more airports and shopping malls around the world
Today, the company announced, that over the next few months, it is adding Live View to 1,000 new airports, malls, and train stations in Barcelona, Berlin, Frankfurt, London, Madrid, Melbourne, Paris, Prague, São Paulo, Singapore, Sydney, and Taipei.

Search with Live View uses both AI and AR to help you find ATMs, restaurants, parks, and transit stations while walking. To activate it, simply hold the phone up while walking the streets. The info you will see is very useful as it will show you "when a place is open, if it's busy right now, and how highly it's rated – so you can make an informed decision and maximize your time."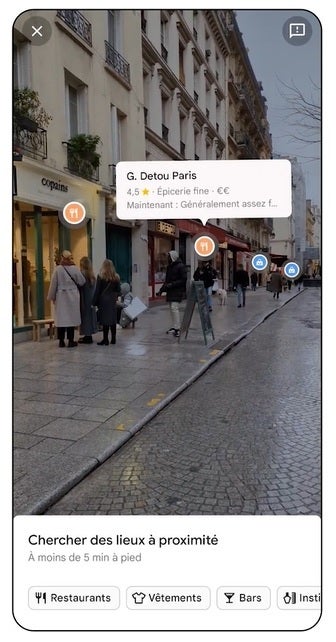 Search with Live View helps you find nearby bathrooms, ATMs, and more
Google recently started offering search with Live View in London, Los Angeles, New York, Paris, San Francisco, and Tokyo. Over the next few months, Google will add the feature in Barcelona, Dublin, and Madrid.
Google Maps will soon give you "glanceable directions." This will allow a user to track his journey from the route overview or the lock screen. You will see information like updated estimated arrival times and where you will make the next turn. Previously, this data would only be shown once you unlocked your phone, opened the app, and used the comprehensive navigation mode. This feature will be disseminated in the coming months to Android and iOS devices.

Google Maps will give important information to EV drivers

Google Maps is also adding new features for Electric Vehicles (EV) that have built-in Google capabilities. For example, on any trip that will require a stop at a charging station, Maps will recommend the best place to stop based on the current traffic, the current charge level of the EV's battery, and forecast battery consumption. If the recommended charging stop is not convenient, it can be replaced with another upcoming stop with just a few screen taps. With this feature, EV drivers won't have to keep worrying about stopping to charge regardless of the destination.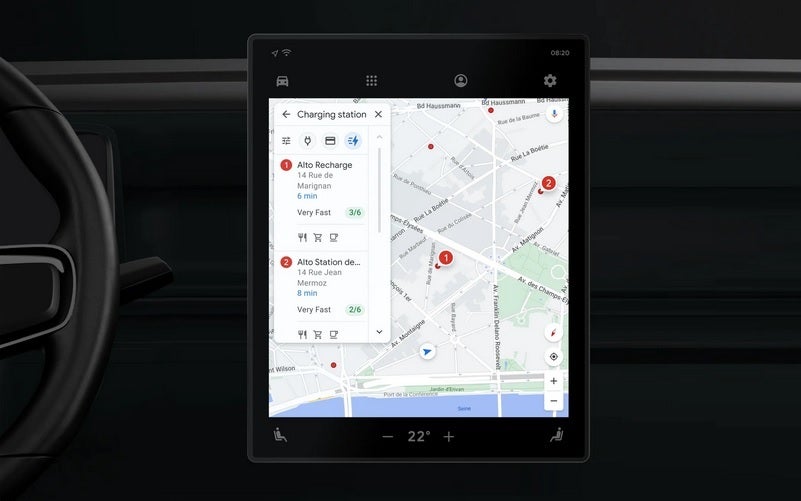 Look for fast chargers for your EV while on the road
EV drivers will also be able to tap the 'very fast' charging filter to find stations that use chargers of 150 kilowatts or higher. This should allow most cars to top off the battery and get back on the road in less than 40 minutes. And under search results, Google will now show when places like supermarkets have a charging station to help you pick up your groceries while charging the battery in your EV.