comScore: Verizon's version of the Apple iPhone 4 most popular U.S. handset in February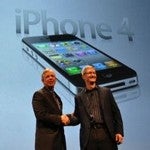 According to market researcher comScore, Apple increased its market share by .9% in the U.S. cellphone market (not just smartphones) in February. That was the largest increase for the month among the nation's top 5 manufacturers and brought Apple's share of the U.S. cellphone market to 7.5%. Samsung owned the top spot with 24.8%, a gain of .3% for the month.
LG was flat during the second month of the year, ending February with a 20.6% piece of the U.S. cellphone pie. In the fourth spot was Motorola. The Schamburg, Illinois based manufacturer lost .9% of its market share to finish with a 16.1% share. Rounding out the U.S. Top 5 cellphone manufacturers is RIM as the Canadian company lost .2% to close February with an 8.6% share of the U.S. market.
No surprise when it comes to OS market share in the U.S. during February. Android rose 7% to control 33% of the market, followed by the 28.9% held by RIM in the U.S., despite a drop of 4.6% in the month. In February, Android and iOS were the only platforms to show growth in the States as the iOS OS added .2% to finish with a 25.2% total. The 4th and 5th largest platforms in the U.S. for February were Microsoft's 7.7% and the 2.8% controlled by webOS. The two lost
1.3
% and 1.1% in market share respectively.
According to comScore, the CDMA version of the Apple iPhone 4 was "the most acquired handset in the month of February." According to the carrier, Verizon's launch of the CDMA iPhone was the biggest launch ever for the mobile operator.
source:
AppleInsider