Adobe Scan is the best app to convert business cards to contacts on your phone
2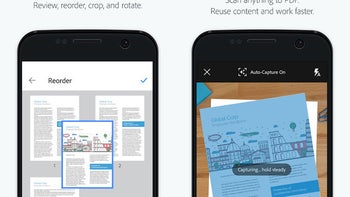 Adobe Scan is one of the many apps available on Android and iOS that offer document scanning capabilities. Much like its counterpart, Adobe Scan can straighten skewed photos of paperwork, clean them up, and even convert them to editable PDF text documents. But up until now, it didn't stand out from the crowd with any unique features.
The latest update for Adobe Scan, however, introduces a nifty new feature that may just be what the app needed – converting business cards to contacts with a single tap. Adobe Scan is not the first app to do this, but it's a very well-rounded offering that the latest update betters even further.
According to
VentureBeat
, who got an in-depth hands-on with the improved Adobe Scan, when the app
"recognizes a business card, it presents a Save Contact button. Tapping on it adds the person's name, company, phone number, email address, and image to your contacts."
Usually, the process of scanning a business card and saving contacts from it involves some manual work, but according to Adobe, their improved Scan app can now do everything automatically with
"99% accuracy."
Adobe's product manager claims that the company had been working on the new business card scanning feature for a year before the team felt it was ready for prime time. One of the issues the developers had to solve was when scanning a business card with a white text on a black, or very a dark, background, which is something that usually confuses OCR (optical image recognition) software.
When scanning a business card with the latest version of Adobe Scan, the app detects the edges of the card, crops it, corrects the perspective, and adjusts the exposure for a clean-looking result. Then, when the algorithms detect a contact, you'll see a new "save contact" button prompting you to add any contacts to your phonebook. When you tap the button, the app will automatically create a new contact with the person's name, phone number, email, and the company they're working for.
The feature currently supports English only, but support for more languages is likely to roll out in the coming weeks and months.
Download Adobe Scan: