Zuck the "most liked" CEO, Larry Page 11th, Tim Cook 18th
27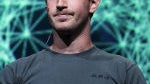 This is a pretty interesting bit of info, though we'd like to know a bit more on how much data it is built on, but Glassdoor has posted its annual list of the 50 highest rated CEOs. This year, Facebook's Mark Zuckerberg took the top spot as the "most liked" CEO, Google's Larry Page came in 11th, and Apple's Tim Cook took a big dive ending up in 18th place. What is especially interesting about this list is that it is using only "employee feedback shared during the past year", so these are the CEOs that are most liked by their own employees.
Mark Zuckerberg actually shares the top spot with the co-CEOs from SAP who also had 99% approval ratings from employees. This is a huge jump for Zuck, who didn't even make the list last year (although last year was only the top 25). Google's Larry Page actually saw his approval rating go up from 94% last year to 95% this year, but he dropped from 5th place last year to 11th this year. But, the big drop was Apple's Tim Cook, who was number one on the list last year with a 97% approval rating, and is down to 93% and 18th place this year.
Other notable names on the list were: Qualcomm's Paul Jacobs at #8, NVIDIA's Jen-Hsun Huang at #16, Amazon's Jeff Bezos at #17, Intel's Paul S. Otellini at #21, and Broadcom's Scott McGregor at #45.