ZTE announces its CES 2014 lineup: Grand S II, Iconic Phablet, BlueWatch, Nubia Z5S and more
10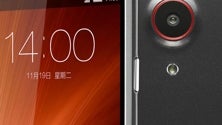 In the last few years, ZTE released quite a few Android smartphones via US mobile carriers, but nothing to leave us impressed. Now, in 2014, the company announced that it would bring some really interesting handsets at CES in Las Vegas next week.
First of all, ZTE will showcase its
Nubia Z5S and Nubia Z5S Mini
, both running Android 4.2 Jelly Bean. The two devices are available in China since Christmas, and it's been reported that more than 2.5 million customers already ordered them. The Nubia Z5S - which costs as low as $330 unlocked - features a 5-inch 1080p Sharp IGZO display, a Qualcomm quad-core Snapdragon 800 processor, a 13MP rear camera with OIS and 4K video recording, 5MP front-facing camera, and 2GB of RAM. The Z5S Mini is smaller, offering a 4.7 inch 720p screen (also using Sharp's IGZO technology), 2GB of RAM, and a dual-core 1.7GHz Snapdragon 600 processor.
Next we have the Grand S II - a new smartphone from ZTE's relatively successful
Grand Series
. The S II will be "ZTE's first high-precision voice phone", offering capabilities like "voice recognition unlocking", voice-to-phone photography, and triple-MIC noise reduction. The handset will run Android, but we don't know which version yet.
A ZTE smartphone for Aio Wireless will be showcased at CES 2014, too. It's called Sonata 4G, and features: a 4-inch display, dual-core 1.4GHz processor, 1GB of RAM, and a 5MP rear camera, and a 1,780 mAh battery.
ZTE won't be all about smartphones at CES 2014. The Chinese manufacturer also announced its first smartwatch, a phablet, a Wireless Home Base for AT&T, and a device that combines a mini projector and a Wi-Fi hotspot - all coming to Vegas.
The smartwatch is called ZTE BlueWatch. There aren't too many details about it, but we know it can connect to a smartphone via Bluetooth, allowing users to control calls, photography, and access Facebook or Twitter. The BlueWatch even has a built-in pedometer.
As for the phablet mentioned above, this is called Iconic Phablet. Reportedly, it features a 5.7 inch 720p display, quad-core processor, Dolby Digital Sound, wireless charging capabilities, and a "smart viewer that allows two applications to be simultaneously displayed on the screen."
Unfortunately, ZTE did not reveal images of its new products yet, so all we can show you now are the already-released Nubia Z5S and Z5S Mini:
We'll check out all the new devices that ZTE announced for CES 2014 and report back when we know more about them.
source:
Business Wire