ZTE Skate hands-on
2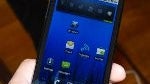 We'd wager that if you went up to some random stranger on the street and ask them who or what ZTE is, we're sure you'll get nothing but some weird responses in trying to decode the acronym. Let's face it, but in order for Chinese manufacturer
ZTE
to make a dent in the US market, they'll need to think outside of making nothing but cheap phones.
Rather, they need a device to show people what they're capable of doing. Fortunately, that's where the
ZTE Skate
comes to mind, as it's a significantly more superior Android smartphone that some of the usual suspects we tend to see from their camp.
Right away, it doesn't look or feel like the cheap devices we've grown to know from ZTE thus far, but rather, it's a larger than normal device sporting a complete
plastic body
– with a nice soft touch matte feel in the rear. Also, we definitely like the nice little Android mascot that's peeking over on the rear cover.
Up front, its
4.3" WVGA display
takes presence as being an acceptable offering, since it's not too often we see a display of this caliber on a ZTE device. Additionally, it packs physical Android buttons as opposed to the typical capacitive ones.
Besides the display, it also features a single-core 800MHz processor, 512MB of RAM, 5-megapixel camera with LED flash, Bluetooth 2.1, FM Radio, 3.5mm headset jack, and a 1,400 mAh battery. Currently, there is still no official word if it'll be coming to the US, but it is available for purchase overseas. And as we said, in order for ZTE to establish itself as a pronounced figure in the smartphone landscape, they'll need to bring more devices like this our way.