ZTE Chorus hands-on
3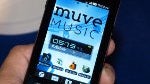 Remember the days when smartphones employed resistive touchscreens? Sure we all remember all those fun times jabbing the stylus on the display of our phones until something activated. As the story goes, the resistive touchscreen seemingly died off with the advent of the iPhone. And since then, we haven't heard much about it, well, sometimes we happen to fall upon a device that undoubtedly wants to bring us back to olden times.
Let's not dodge it at all, but the
ZTE Chorus
for Cricket Wireless is simply that modern smartphone that potentially will make consumers go bonkers. Initially, its quaint and compact appearance easily makes us believe that it's none other than a low end phone, but it's worth noting that you'll need to fork over
$99.99
to pick this Android powered device without a contract.
However, we're horrified to find that it's packing a
3.2" QVGA RESISTIVE display
– yeah, you heard that folks, it's a
RESISTIVE
panel! Rather uncommon in this age, we're finding ourselves using the edge of our finger nails to type a message on it.
Alright, so let's look away from the obviously forgettable display, which is nowhere close to being detailed by today's standards, but its plastic casing is an unbelievable
fingerprint magnet
– though, we do like its sparkly looks thanks to the metal speckles blended into the piano black plastic. In the rear, the ZTE Chorus features a 2-megapixel camera, but no flash whatsoever.
There's no mention as to what kind of processor is under the hood, but after playing around with the handset, we're confident that it's not going to make much of a difference – albeit, it does run somewhat decent.
All in all, if you're a Cricket customer that's really strapped for cash and want a new Android powered smartphone of some sort, the ZTE Chorus is there to sing you a song. However, just don't expect it to be all that pleasing.