Your phone's vibration motor can turn into a microphone and give away your secrets
12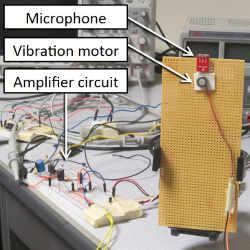 Did you ever stop and think about the vibration motor on your phone? After today, you might want to. At the Electrical and Computer Engineering school of the University of Illinois at Ubana-Champaign, Associate professor Romit Roy Choudhury and PhD candidate Nirupam Roy, have discovered that you can be spied on using the vibration motor on your phone. The vibration motor is like a speaker, and any speaker can be used like a microphone.
Choudhury and Roy wrote a paper about this. Re-arranging the applied voltage of the motor can turn the component from a speaker to a microphone. The good news is that this isn't something that can be done via remote control. Reversing the applied voltage requires someone to get into a phone and physically mess with the motor. However, it could only take a minute to set this up, soldering at "four critical junctions."
The vibrations recorded really don't sound like they can be identified. But with voice recognition software, and algorithms that replace missing frequencies, the garbled noise can be translated into the right word an amazing 80% of the time.
Click on the sourcelink to hear an actual pre-processed word captured by the vibration motor, the word after processing, and the word through a microphone. Choudhury and Roy will present their paper in Singapore later this month at MobiSys.
.
source: VibraPhone (
1
), (
2
) via
TechCrunch