Yahoo plans to be on any wearable device, including Google Glass and the rumored iWatch
6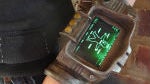 A couple Yahoo mobile executives had a chat with
VentureBeat
today, and they wanted to be clear about Yahoo's plans moving forward: Yahoo wants to be on any mobile device that people use, and that means devices beyond the traditional phones and tablets, and into the realm of wearable device, including Google Glass and the rumored iWatch.
Yahoo mobile senior director Lee Parry talked about the transition Yahoo has had to make, where in the past, the web was the driving force, but now the web can be accessed from so many different devices, things have had to change. Parry said that "mobile is just as - if not more - important than the traditional desktop PC", and mobile keeps changing with the wearable devices that are on the horizon. Parry added:
It would be crazy not to be looking at all these new devices and new ideas, from things hitting the market now like Google Glass or things that are just rumors like Apple's watch.
Yahoo mobile director Marco Wirasinghe went on to say that Yahoo has a lot of user data and content, and the trick is in finding "the right screens" for the right content and the right situation.
Neither exec mentioned specific apps, but it seems reasonable that Yahoo would use its content offerings to send important headlines to a wearable device like Glass, and would probably want to make an easy way for Glass users to share photos and video to Flickr.