WinZip makes its way to Android
8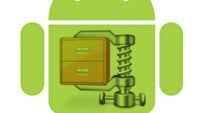 WinZip is one of the older names in the book when it comes to zip utilities, but didn't immediately make the jump to mobile. It is also one of those pieces of software that makes you wonder if anyone, ever, in the history of the Internet has ever paid the $29.99 licensing fee.
Luckily, with its newest iteration, you don't have to worry about that. Continuing its expansion to mobile after hitting iOS devices a few months back, WinZip has now made its way to Android and is available in the Google Play store for free.
WinZip for Android pretty much does what you expect it too – it opens zip files. In addition to the obvious, it also has support for image, text, and web files that can be opened directly inside the app, it supports encrypted zip files, allows you to copy unzipped content to the clipboard to paste in another application, and can automatically unzip and install Android apk files. It is compatible with Android smartphones and tablets running Éclair, Froyo, Gingerbread, Honeycomb, or Ice Cream Sandwich.
Several users have posted in the reviews that instead of the back button sending you up a level in the file hierarchy, it exits the application. When we tried it, we found ourselves reaching for the back button to go up a level rather than being drawn to the on screen navigation, so WinZip may need to take a second look at the user experience before this one is a big hit.
All and all, it handle unzip task well, has a name that many feel is synonymous with zip files, and it is free, so if you're in the market for a new zip utility, be sure to give WinZip a look.