Wilson Electronics claims the world's first LTE signal booster, yours for $150
1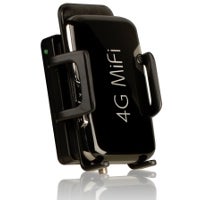 If you are on the fringe of Verizon's LTE coverage, but dying for those 5-12Mbps advertised download speeds, Wilson Electronics claims the world's first LTE signal booster.
The kit is called Sleek 4G-V, and for $149.95
"boosts all LTE, 3G and 2G cellular signals on 700 MHz, 800 MHz and 1900 MHz frequency bands.
"
That's right, the company claims it will amp up the signal of other carriers as well, but it's the LTE part that is interesting here, as it seems to be the first effort of this kind for Verizon's fledgling 4G network.
Wilson Electronics says in the press release that the compact device, which is basically a two-way amplifier, is
20 times more powerful than your average cell phone
, in terms of picking up signal. That is since the antenna inside is not affected by the usual design restrictions that go into creating a cell phone antenna (remember Antennagate?).
Users of the non-LTE version of the company's signal boosters usually have good reviews about the practicality of such a device, so we can't wait to check what's the story with the Sleek 4G-V, which will be on display at CES come next week.
Wilson Electronics Introduces the World's First 4G Mobile Signal
Booster at 2012 International CES



New Sleek 4G-V boosts voice and data communications

on 2G & 3G Networks, as well as Verizon Wireless™ LTE



LAS VEGAS – Jan. 9, 2012 – Wilson Electronics (www.WilsonElectronics.com),

manufacturer of North America's top-selling line of cellular signal boosters, announced

at 2012 International CES the world's first 4G mobile signal booster, the Sleek® 4G-V.



In areas with Verizon Wireless™ LTE service the Sleek 4G-V will ensure a strong

LTE signal as well as conventional 3G or 2G signals. Benefits include fewer dropped

connections and no-service "dead zones," faster data transfer rates and improved battery

life for wireless devices.



The Sleek 4G-V is on display at the Wilson Electronics booth #35219 in the Las Vegas

Convention Center, South Hall, level 2, through Jan. 13.



The device, with an MSRP of $149.95, boosts all LTE, 3G and 2G cellular signals on 700

MHz, 800 MHz and 1900 MHz frequency bands. Designed for use in a vehicle, the Sleek

4G-V can also be used indoors with the purchase of an optional accessory kit – perfect

for boosting signal to 4G wireless hotspots like the Verizon JetPack.™



"Verizon Wireless customers who use LTE-enabled phones and data devices can now

enjoy the same benefits of Wilson boosters that others on 3G networks have long

enjoyed," said Laine Matthews, Wilson's director of business development. "For those

troubled by a weak signal, the Sleek 4G-V provides a strong, reliable connection so they

can connect with confidence."



In areas not served by Verizon Wireless LTE, the Sleek 4G-V will amplify any existing

signal on 800 MHz and 1900 MHz bands. This allows the user to enjoy a strong, reliable

cellular signal even when no 4G service is available.



The Sleek 4G-V delivers more than 20 times the power of a typical cell phone, but

weighs only three ounces (85 grams) and measures just 2.5 by 4.5 by 2.5 inches (6.4 x

11.4 6.4 cm). Simple, do-it-yourself installation is done in a matter of minutes.



The Sleek 4G-V will be available in the second quarter of 2012 from most Wilson

resellers. It is designed for ideal use with a Bluetooth headset or other hands-free device.

Additionally, like all Wilson signal boosters, the Sleek 4G-V features very sophisticated

cell tower protection technologies developed over more than a decade of research and

development.