Why people hate on-contract tablets
16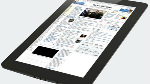 NPD just released a survey that may not exactly "prove" that on-contract tablets are universally hated, but it certainly shows that very few people bother with them, and there isn't much place for them in the market right now. The new survey is from Connected Intelligence, part of NPD, and it is a follow-up on a survey done in April 2011.
The surveys aim to get info on how tablet users access the Internet. As
we let you know
, in April, it found that 60% of users connected only through WiFi, but 5% planned to get a mobile data plan within 6 months. The new survey (amazingly 6 months after the first) found that WiFi-only users had grown to 65% while mobile broadband users decreased.
There are a number of reasons why this happens. Eddie Hold, VP of Connected Intelligence, says that one reason is that WiFi represents "good enough" connectivity for most tablet usage, and mobile phones fill in the "'must have' connectivity needs". There is also a theory that early adopters bought 3G tablets as a sort of "future-proofing" without having any plan to ever use the capability.
Price and availability
We think it's just two basic issues: cost and mobility. No one really wants a subsidized tablet. That much is very simple, and we've seen the proof in the Motorola XOOM, HTC Jetstream, and other tablets. The most successful tablets have been the iPad (and most sales of the iPad are WiFi-only models), the Asus Transformer, the Kindle Fire, Barnes & Noble Nook Color, and Samsung Galaxy Tab. No one wants a tablet that's more than around $500, and certainly very few people want to have recurring charges for mobile data. More importantly, if a tablet is subsidized or marketed primarily as a carrier device, consumers will only find those devices when they go into a carrier store.
We haven't seen the stats behind it, but we'd be willing to bet that there are more iPads sold in Best Buy than in AT&T and Verizon stores. But that is the other unifying aspect of the biggest tablet flops so far: availability. The XOOM and Jetstream may have been overpriced, but they were also only available in carrier stores. It would seem likely that most consumers haven't gotten into the habit of thinking of their carrier store as an electronics store. Most people who go shopping for a tablet are likely to visit Best Buy before a Verizon store.
Mobility
The other issue is mobility. Maybe we take a more hardline stance on the semantics of it, but it seems to us that "mobile" is something that can fit in your pocket, like a phone; whereas, "portable" is something that you can carry if you want, but most people won't carry it all the time, like tablets and laptops. The difference is that a mobile device is something most people are willing to have with them at all times, and will pull out for use just about anywhere, but portable devices are carried to a destination before coming out for use.
Smartphones are decidedly mobile. Smartphones have myriad uses and are at their best when connected at all times to mobile data, because they are small, quick and easy, and are mostly used for quick and easy tasks. Tablets, as we've said before, are essentially consumption devices. Their most common use is to watch video, read books/magazines, surf the web or play games. Those are not activities that you are likely to do while walking down the street, but rather when sitting or relaxing at home, a cafe, etc (aka places that usually have WiFi.) The one big outlier to this theory is the public transportation commuter. As yet, a lot of buses and trains don't have WiFi access, so tablet owners who commute to work via public transport may find mobile data more necessary than most other tablet users. Still, this is a pretty small section of the whole of tablet users.
Conclusion
As of right now, consumers have to choose between convenience and cost, but if we're lucky, that won't be the choice for too much longer. If carriers do it properly (which is quite a big if), shared data plans could go a lot way to changing the way we use tablets by virtue of offering easier access to mobile data. The other possibility is that manufacturers stop charging such absurd premiums for a 3G model tablet, but that isn't very likely. If Apple can get away with a $130 premium for 3G, or Android manufacturers can tack on an extra $100 or so, they will certainly do it. Luckily, NPD has shown that consumers don't fall for it.
source:
Connected Intelligence
Recommended Stories