WhatsApp adds voice messaging as it passes 300M users
8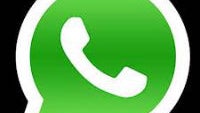 WhatsApp has been one of (if not the most) popular messaging app recently, and the service just keeps on getting better. As we know by now, WhatsApp loves to let everyone know when it hits a new milestone with either its
user numbers
or its per-day
message processing
numbers. Well, the app has hit a new plateau, and has added a new feature to mark the occasion.
It was just about 6 weeks ago that WhatsApp announced that it had hit 250 million active monthly users, and about 7 weeks since WhatsApp announced 27 billion daily messages processed. Today, it has announced that the service now has 300 active monthly users, and that it processes 11 billion outgoing messages and 20 billion incoming (the difference is due to group messaging.
To mark the occasion, WhatsApp has started rolling out updates that add voice messaging to its apps. And, we're not just talking about updating the major platforms, but all of the apps on iPhone, BlackBerry, Android, Windows Phone, and Nokia. So, check your app stores for the update.