What's the hype behind phablets? Won't a smartphone or tablet do?
59
This article may contain personal views and opinion from the author.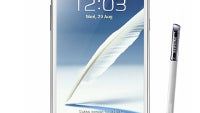 Phablets are a cross between smartphones and tablets that usually check in somewhere between five inches and 6.9 inches. A lot of people think that these mobile devices are little more than fads that will quickly disappear. Others love their phablets. What features are driving the hype between these devices?
Features people like in phablets
It's somewhat shocking when someone whips a 6.9-inch phone out of his pocket. How does that person get around with such a huge phone? Apparently there are plenty of people who don't find large phones cumbersome. In fact, they appreciate what big phones offer. A big screen is obviously attractive to a lot of people. When you have a bigger-than-average screen, you can:
Watch movies on the go
Browse the Internet easier
View photos without enlarging or distorting their sizes
See apps more easily
Hey, people love huge screens for their desktop computers. Why wouldn't they want big screens on their mobile devices, too?
Buyers also like feeling that they're getting more for their money. 2011's Galaxy Note, which has a 5.3-inch screen, doesn't cost much more than an iPhone or other smartphone. If you're the kind of person who wants to feel like he's gotten more out of his dollar, then the bigger phone looks like a good option. All it takes is a salesperson to show you how easy it is to carry all of your favorite movies in your (somewhat oversized) pocket. Bam, you're sold on phablets.
If price is your reason to love a phablet, get ready for an irresistible upgrade this summer. Some experts predict that more companies will flood the market with phablets, which should force the prices down even lower.
The strength is also the weakness
That large size attracts a lot of buyers, but it also turns a lot of people off. The average consumer sees three mobile device options:
Smartphone
Tablet
Laptops
The idea of a hybrid smartphone-tablet doesn't even enter their thinking because they know they can purchase a small smartphone that's easy to carry with them everywhere. If they need a larger option, they can just reach into a backpack and pull out their tablets. (When it comes to serious typing, though, it's hard to imagine that anything will replace laptops in the near future.)
These consumers don't want big phones filling their pockets to the brim. They want a phone that's easily accessible and a tablet that they can use on other occasions. Why confuse matters by trying to smash the two devices together?
Phablets aren't as popular as you might think
Despite the hype that you hear about phablets, it's possible that they're not as popular as you think. According to research by Flurry Analytics, only 3 percent of active users have phablets. 72 percent have phones between 3.5 inches and 4.9 inches, 5 percent own small tablets measuring between seven inches and 8.4 inches, and 13 percent have full-size tablets with screens of over 8.5 inches.
Compared to other mobile devices, phablets only make up a tiny portion of the industry. Still, it's a niche that designers want to dominate. Consider the perspective of a fledgling manufacturer trying to break into the industry. You don't want to compete against Apple, and you're pretty sure that companies like Samsung have the market pinned on Android devices. Instead of going head-to-head with the big guys, you try to claim a niche market, no matter how small it is.
And yet, some phablets are popular
When you look at the world population, phablets aren't that popular. But when you focus on certain areas, certain devices stand out as big sellers.
In March, 2012, Samsung claimed that it had sold five million Galaxy Note phablets. That's a huge number for a device that, quite frankly, you don't see that often in the U.S. They're not rare, but you certainly don't see them as often as iPhones.
Part of the problem could be that American consumers aren't behaving like other buyers around the world. Samsung claims that the Galaxy Note is the number one seller in countries that speak Spanish, French, and Chinese, not to mention Korean (Samsung is based in Korea). Despite economic troubles in the U.S., consumers still have more discretionary income than people in most parts of the world. Americans might prefer to carry a smartphone and a tablet, but a lot of people find that phablets offer a good compromise that makes mobile technology more affordable.
There are a lot of consumers around the world waiting for the Galaxy Note III to come out. They're eager to buy, and they could change the way that manufacturers look at the mobile device industry.
No matter which device you choose, app developers win
If you're an app
developer
, you probably watch all of these with a slight bemusement. It doesn't matter whether consumers prefer tiny smartphones, big tablets or something in between. The fact of the matter is that people want mobile devices, and that means they want apps.
With the current app-buying system, that's an easy position to take. Most devices have operating systems that fall into one of two categories. Either you have a phone with an Apple operating system or one with an Android operating system. As long as you can create apps for one of those two options, you're good to go.
Will phablets fade away?
Phablets can look like a fad, but it's not smart to disregard them this early in the game. U.S. buyers don't mind buying two mobile devices, but the U.S. market doesn't control the industry anymore. As countries like China and India develop, they will have a bigger impact on what manufacturers decide to make.
That can influence technology trends as well as the aesthetics that attract people to certain devices. If you want to make a safe bet, wait until after this summer before you rule for or against phablets. There are a lot of innovative products on the way. You shouldn't discount them until you've seen them.
Do you think phablets or a fad, or will their popularity grow?
---
Shaun Chatman
is a well published author on many authority sites. He lives in Dunedin, FL, and spends his free time playing with his kids or his collection of gadgets.