WP7 handsets will be littered with various types of data/charging ports?
This article contains unofficial information.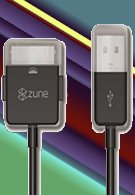 As much as how Microsoft has seemingly dictated the hardware specifications that are required to run Windows Phone 7, the talk surrounding charging or data connectivity ports looks to point in a different direction. Although we can expect to not see the Zune connector make an appearance on Windows Phone 7 handsets, the chassis specifications for WP7 doesn't clearly specify the format for its syncing/charging ports. We're quite fond of the usual and some times traditional microUSB and miniUSB ports used in most phones, but there could be the possibility of seeing various proprietary ports on these future devices. There's no denying the love for a universally sound format for these charging/data ports, but the business surrounding cable and charging accessories could point to the same realization some people face still today when purchasing a new handset. If Microsoft is surely listening to some of the criticisms out there, we'd expect this one to be ringing loud and clear right now.
via
WMExperts