ViewSonic to show off 22 inch Android tablet at Computex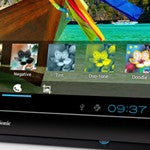 As the successful
phablet market
has shown, bigger really is better in some cases. ViewSonic certainly has embraced the idea, as they just announced they will be showing off a 22 inch tablet/monitor running Android at Computex on June 5th. The image suggests their 22" behemoth, which is aimed at business as a touch-enabled collaboration device, will be running Ice Cream Sandwich.
ViewSonic will also be introducing some new cloud services, much like, well… everyone else these days. The oversized Android tablet will apparently be joined later this year by a Windows RT-based device of similar dimensions. Windows is a mainstay of the enterprise right now, so that may end up being a more popular solution, although we've yet to see if Windows 8 and Windows Phone will make serious inroads with businesses.
How about you? Would you be interested in a touch-screen device running Android (or Windows) that's almost 2 feet across on the diagonal? Let us know in the comments section below.
source:
Engadget