Video: MAYA Design shows off a smartwatch that controls drones
8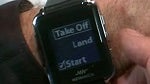 MAYA is a design lab that researches ways to bring the computing and human experiences together in a positive fashion.
The company works with everyone from Pepsi to DARPA developing new ways to make enhance usability of systems or customer experiences. If you look at MAYA's portfolio you can see an amazing depth and foresight to the types of projects it tackles.
MAYA (which means Most Advanced Yet Acceptable) practices around research, human-centered design, and pervasive computing. In plain language, it seeks to bring collaborative computing down to a casual everyday level. One demonstration of this was with the company's presentation at DEMO Mobile last week. Showing off MakerSwarm as a way to show that anyone can connect anything to perform almost any task, MAYA displays how it can control a pair of aerial drones with a smartwatch.
The rest of the presentation then goes in the depths of what MakerSwarm could accomplish with the touch of a finger. It effectively lowers the bar enabling anyone to build connected environments without writing lines of code in the process.
source:
MAYA Design
(YouTube) via
CITEWorld
and
Techonomy
Recommended Stories