Vertu announces limited edition TI devices, only 1,000 of each will be made
9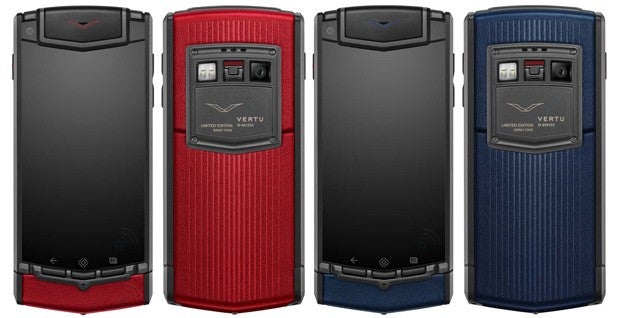 The luxury handset's
first Android powered device
will now also be offered in a limited edition trim featuring a couple exclusive for those that already have everything else. The Vertu Ti will offer limited edition models in either Sunset Red or Midnight Blue, both of which are made with leather. The colors are what make the devices special, plus only 1,000 of each color will be made, engraved with a serial number and signature of the craftsman that built the device by hand.
The red and blue are a departure from the current line of black options featuring specific accents of alligator or gold. These luxury handsets are not spec-monsters by any standard nowadays. The appeal of a Vertu beyond its exclusive hardware is the concierge service that is available to accommodate every whim and wish of the owner 24/7.
For those that need to know though, the Ti features a 3.7-inch 800x480 display with a sapphire crystal instead of glass. There is an 8MP autofocus camera, and 64GB of storage on board. The Ti is a quad-band GSM smartphone with HSPA+ data up to 42Mbps, Bluetooth 4.0 LE and NFC. Powering the whole thing is a dual-core Qualcomm Snapdragon CPU tuned to 1.7GHz and Android 4.0 Ice Cream Sandwich.
To become an owner of one of these exclusive limited edition Ti devices, just find a dealer and be ready to pay about €8,900 ($11,700) for the privilege of owning one. The concierge service starts at about a couple thousand per year. Big spenders get their own dedicated concierge agent.
via:
Engadget