Verizon's Samsung Continuum employs an additional OLED display for the "Ticker"
This article contains unofficial information.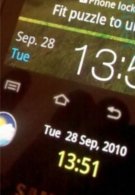 Even though the Samsung Fascinate is still getting its share of the pie in terms of exposure thanks to television commercials, some are in fact still waiting out to see what else is in store for Verizon's Android lineup. Well, if you happen to take side with Samsung, you're in for a surprise because their next Android powered smartphone for Big Red might impress you.
It appears as though images of the rumored Samsung SCH-i400 Continuum have leaked indicating some impressive design elements that should prove to be innovative in terms of functionality. For starters, would can see in plain sight that there is going to be the addition of a secondary OLED display directly below the main one. Although it's displaying the time and date in the photo, which is being referred to as the "Ticker," it's being reported to even display notifications, weather conditions, and RSS updates. On top of that, you'll be able to access most of the basic phone functionality without having to traverse through the normal interface.
The handset even looks to be yet another variant of the Samsung Galaxy S line of devices based on its branding from the image. Finally, Samsung Fascinate owners will undoubtedly be jealous because this one even packs a dedicated camera button and an accessible microSD card slot found on its side.
Samsung Continuum I400 Preliminary Specifications
source:
Engadget