Verizon officially announces Palm Treo 650, Samsung i730 and new data plans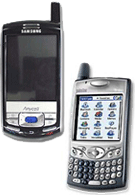 Verizon Wireless have already been selling Treo 650 smartphone to its enterprise customers, and the carrier announced that the Treo 650 will be available to all retail customers on May 23 at any of the 1,900 Verizon Wireless Communications stores for $399.99 with a two-year customer agreement.
The Treo 650 GSM version is already available from Cingular Wireless.
Main features of the Treo 650 are:
320x320, 65,536 color TFT touch screen
312 MHz Intel PXA270
Palm OS operating system
Bluetooth
CDMA2000 1xRTT
VGA built-in camera
QWERTY keyboard
POP3 or IMAP e-mail accounts
| | |
| --- | --- |
| | Treo 650 |
Verizon will also introduce this summer the Samsung i730 smartphone, which runs on Windows Mobile Pocket PC operating system.
Main features of the i730 are:
Microsoft Mobile for Pocket PC Phone Edition 2003 operating system
240x320, 65,536 TFT display
High speed data transfer through Bluetooth, WiFi, and EV-DO
GPS
Expandable memory through SD cards
QWERTY keyboard
Full Samsung i730 specifications
| | |
| --- | --- |
| | Samsung i730 |
Verizon Wireless also offers new data pricing of their services as follows:

Unlimited use of NationalAccess (1xRTT service) is now $59.99 monthly. NationalAccess is wireless high-speed data service that allows customers to access internet from their laptops at speed of 60-80 kbps. It is available in thousands of cities and towns across the nation.
The unlimited use of BroadbandAccess is $79.99 monthly. BroadbandAccess is Verizon's premier data service, operating on the company's EV-DO network, available in a growing number of markets throughout the U.S. It provides customers with average speeds of 400-700 kbps and is capable of bursts up to 2 Mbps.
Source: Verizon Wireless