Verizon offering 50% off on Galaxy Nexus extended battery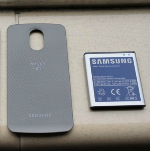 This one is a good one, although it is a hidden discount. Verizon is now offering an extended battery and battery cover combination for the Samsung Galaxy Nexus for 50% off. It is a little strange though, because when you go to the accessory page for the bundle, it will show for the full price. But, after you add the battery/cover combo to your cart, you'll notice that the price will drop from $49.99 to just $24.99, and you even get free shipping.
Early reports are showing the Galaxy Nexus has solid battery life, but we all know what LTE can do to your battery life. So, if you plan on doing some hardcore work on your new device, or you want to be on LTE a lot, it never hurts to have an extra battery around, especially an extended 2100 mAh battery.