Verizon launches VZ Navigator 5.0 today
6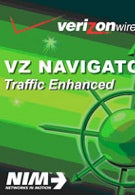 Verizon Wireless has officially announced the launching of VZ Navigator 5.0. The newest version of the app allows certain Verizon handsets the opportunity to multitask on VZ Navigator, allowing the user to use more than one function at a time. Beginning today, users will notice a new, easier to use interface that allows the user to quickly find points of interest nearby. The application uses the GPS of the device to pinpoint your location to enable you to get useful information and navigate to specific places.
With data now streamed, those using the app for driving directions will not have to wait for the entire route to download as more information will reach the screen faster. Premium places of interest will be detailed on a map, using icons. You can also opt-in to anonymously send your real time location and speed to VZ Navigator traffic reporting service to improve the quality of real time reports for all VZ Navigator users. The new build will show graphic notifications on the maps for U-turns, tunnels, traffic circles and toll plazas. Certain BlackBerry and Windows Mobile models will be able to allow the user to verbally request the location or destination that the user wants. VZ Navigator will now integrate with your social networks. For example, you can update your Facebook status through the app and share your location.
Starting today, VZ Navigator 5.0 is available for the BlackBerry Curve 8530, LG enV Touch, HTC Touch Pro2 and the Samsung Omnia. Additional devices will be joining those handsets in the weeks ahead. Those eligible for the update will be prompted to click a button to upgrade to 5.0 the next time they use the service.New VZ Navigator subscribers can get the 5.0 version from the Get it Now Media Center, VZ Start, or from My Verizon. The cost of the service is $9.99 for unlimited use per month, or $2.99 for 24 hours of service. And just to be sure, Verizon reminds everyone that once behind the wheel, save driving is the first priority.
source:
Verizon