Verizon launches V CAST Media Manager cloud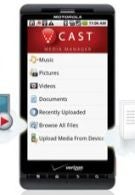 Verizon has launched its cloud service, called V CAST Media Manager. While Verizon has had their contact backup service for quite some time now, this service is the first that will allow a wide array of document storage.
The hope is that the Media Manager will serve your phone, tablet, TV, and computer. The service is available free for the first 90 days, and then costs $2.99 per month for the first 25 GB.
With the improvement in phones' camera quality, their photos taken are more valuable than ever, making the Media Manager a logical solution. Not only is this a logical development for Verizon, but it is also an excellent retention tool if the user's valuable data is attached to their wireless plan.
This service comes against opposition like Google and Mozy. Google has announced a similar service which will store the users' music in their 'locker' for about $25 a year. Verizon's VP of product development, Kyle Malady, is confident in the Media Manager's capabilities: "you can have your media in the cloud and stream it to a TV, and play your music from anywhere...This is our first step, but we think there's a whole bunch of cool stuff that can follow."
source:
Verizon
via
mocoNews