Verizon is offering free Star Wars: The Force Awakens Cardboard VR sets to its customers
10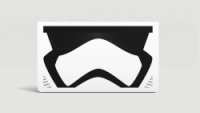 Even those who aren't fans of the Star Wars series probably know by now that the seventh installment in the saga will hit theaters in December. If your hunger for new Star Wars content cannot be delayed until after Star Wars: The Force Awakens launches, Verizon - one of the movie's many sponsors - has a special treat for you.
The nation's largest carrier is now offering a range of Star Wars themed Google Cardboard VR sets for free. There are four models available, Stormtrooper, R2-D2, BB8, and Kylo Ren, and each one of these will come with unique content based on the upcoming Star Wars movie.
The custom Cardboards are available in select Verizon locations across the US, and Verizon says that it has 200,000 of them ready to give out to its customers. Unfortunately, if you're not a Verizon customer, you won't be able to get your hands on one of the new Star Wars: The Force Awakens Carboard sets.
Just like any other Cardboard VR set, Verizon's Star Wars models are made out of actual cardboard and be used with any Android phone or iPhone to access the VR content available in the Google Play Store or in the Apple App Store. The bonus content will be made available through the Star Wars app, available for both Android and iOS.