Verizon might carry the OnePlus 8 Pro next year
6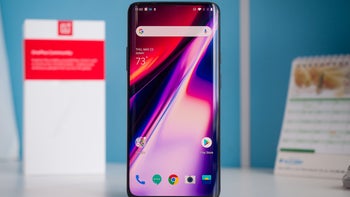 OnePlus reached an agreement with T-Mobile around twelve months ago to sell the
OnePlus 6T
and the partnership was subsequently extended earlier this year to cover the OnePlus 7 Pro. More recently, OnePlus announced a separate deal with Sprint that'd see the carrier sell the OnePlus 7 Pro 5G. Now, it seems the Chinese company has its eyes on Verizon.
The OnePlus 8 Pro may launch on Verizon and T-Mobile
The regular
OnePlus 7T
Pro might
not be coming to the US
but recent rumors suggest the OnePlus
7T Pro 5G McLaren
Edition will make it to the market. But unlike the brand's previous smartphones which have been sold through T-Mobile and Sprint, this particular device will reportedly launch as a Verizon exclusive later this year.
Big Red isn't planning any other OnePlus launches in 2019 from what can be understood but a
report published today
by
Android Police
suggests next year could be a completely different story. Like T-Mobile, Verizon appears to have struck a deal with OnePlus to offer its devices in 2020. This information is corroborated by
tipster Max J.
who believes the "entire lineup" could be made available.

Once the OnePlus 7T series launches globally in October, OnePlus isn't expected to release any other devices for at least another six or seven months. Therefore, the first mainstream smartphone from the brand that'll be available on Verizon may be the OnePlus 8 Pro.
Little is known about this particular model at the moment but it seems like the most logical launch for Verizon. After all, the current OnePlus strategy seems to focus on releasing Pro models in the first half of the year for the US market and regular T-branded devices in the second half. This strategy also means that Verizon may launch the
OnePlus 8T
in just over twelve months' time.
OnePlus and Verizon's deal could face hurdles
Although sources say Verizon and OnePlus hope to continue moving forward with the current deal, there's no denying the future partnership faces one big hurdle. This could ultimately lead to the agreement being scrapped in the near future or even at the last minute much like Huawei's failed partnership with AT&T way back in January 2018.
As some of you may already know, President Trump has already threatened to impose a 15% tariff on all smartphones imported from China. The change was initially set to take effect in early September but the administration ultimately pushed it back until mid-December to avoid an immediate impact on US consumers. Companies such as Apple are expected to absorb the added costs and take a profit hit while the likes of Google have resorted to
shifting production to Vietnam
. OnePlus, on the other hand, operates with noticeably smaller profit margins. This makes absorbing the financial impact almost impossible and a price hike for consumers essentially inevitable.
This change may not stop loyal fans from purchasing OnePlus devices but it most certainly will deter regular customers from acquiring the phones. After all, the change would mean parting ways with a substantial amount of extra cash – the OnePlus 7 Pro's price could increase by over $100 – and it'd also reduce the gap between OnePlus flagships and Samsung and Apple's latest offerings.
Ultimately, only time will tell how all of this plays out for OnePlus but a partnership with Verizon could prove extremely beneficial to the company. After all, the company is currently the largest carrier in the US and can grant access to more customers than T-Mobile and Sprint combined.