UNICEF app provides the needy with clean water; here's how you can help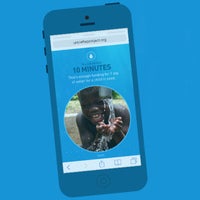 What if we told you that you could change the world for the better with the help of a simple application? That's absolutely possible thanks to UNICEF and its Tap Project for bringing clean water to people in need. The campaign has its own web-based mobile app, which allows anyone with a smart mobile device to participate. This is done by leaving the application running in a web browser window, all the while resisting the temptation of touching your smartphone or tablet – for every 10 minutes that you spend without your device, the Tap Project's sponsor will donate enough money to provide a day's worth of clean water to a needy child.
For the month of March, up to $75 000 will be donated by Giorgio Armani Fragrances, one of the campaign's sponsors, based on the amount of time volunteers have invested in the Tap Project web application. Each minute a participant spends away from their device is worth $.0025. We know it doesn't seem like much, but if, let's say, you leave your smartphone or tablet active overnight, you'll raise enough funds to provide an impoverished family with fresh water for well over a week. And that would be a noble deed, given that 768 million people around the world have to live without access to clean water.