Turning on your smartphone while flying could have deadly consequences
22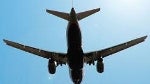 For those of you who
secretly
turn on their cell phone while on board a plane-and don't put it on Airplane mode-be aware that there is the chance of a
deadly
consequence to your action. From 2003 to 2009, the International Air Transport Association found 75 cases of interference having an affect on flight controls, engine indicator lights and other
important
gauges. Crew members believed each case stemmed from the use of portable electronic devices.
The IATA, representing more than 230 passenger and cargo airlines around the globe, broke down the incidences and reports that 26 affected
flight controls
like the autopilot, autothrust and the landing gear. 17 affected the
navigation systems
and 15 had to do with the
communications system
on board the plane. 40% of the problems were linked to the use of a cell phone.
In one case, the autopilot turned itself
off
at 4500 feet and warning lights came on. Flight attendants were immediately requested by the pilots to search for passengers using electronic devices and found 1
handset
and 3
Apple iPods
in use. An announcement was made over the PA and the plane landed safely. In another case, a clock started to spin
backwards
while the GPS had an
incorrect
reading (and no sign of a LightSquared LTE tower!). Another case saw the altitude readings changing quickly.
Boeing's Dave Carson is the co-chair of a federal advisory committee that
investigated
the problem and found that portable electronic devices can interfere with the plane's sensors hidden in the passenger area. Carson says that such interference can show the plane to be to the right of the runway when it really is to the left of the runway. And when asked if cellphones could really be that powerful, he said that it could be if it goes in the right
place
at the right
time
. Carson took an ABC News into one of Boeing's test chambers where tests showed that a BlackBerry handset and an Apple iPhone both created signals
above
an approved limit. The device that had the highest (and thus the most
dangerous
) reading was the Apple iPad.
On the other hand, former Air Force and Commercial Pilot John Nance says that considering that there are 32,000 flights a day over the U.S., there is not enough evidence to prove that portable electronics are at fault. Nance thinks there are other
explanations
for the problems. He says, "If an airplane is properly hardened, in terms of the sheathing of the electronics, there's no way interference can occur."In the meantime, Boeing engineers say
older planes
, not as well protected with the wiring, can have navigation and communication problems with interference from portable electronics. Next time you are on a plane with your handset or tablet, it probably is a good idea to play it safe and use the Airplane mode. After all, that is what the setting is there for.
source:
ABCNews
via
AllThingsD


Recommended Stories