Toshiba working on innovative refocusing camera module small enough to fit in a smartphone
7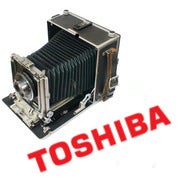 Don't you hate it when you take a photo with your smartphone only to look at it later and realize that it has come out blurry? Yeah, so do we, yet thankfully, out-of-focus images might be a thing of the past one day. Toshiba is said to be working on a new camera sensor that will allow photographs to be refocused after they have been taken. And no, that does not involve any use of black magic. Rather, what makes refocusing possible is the lens that the camera module is equipped with.
Toshiba's module is in the shape of a cube with a side measuring 10 millimeters, which means that it is small enough to fit in a smartphone or a tablet. The image sensor itself measures 5 by 7 millimeters, and the high-tech optical array consists of over 500,000 miniature lenses. Each lens captures a slightly different image, and the final photograph is a software composition made from all of them. This technology would also allow the camera to measure precisely the distance to an object that is being observed.
Toshiba's innovative camera sensor would allow users to adjust the focus of an image after it has been taken. In addition, photos that are in focus across all areas can be produced as well. If all goes well, the sensor should be available for sampling by the end of fiscal 2013. Which smartphone manufacturers might be interested in using it, is not yet known.