This is the selfie accessory that the rich and famous are swooning over
31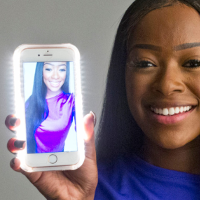 With many new smartphones offering wide angle selfie shots, the days of the selfie stick are gone. That's right, the selfie stick is so 2015. But there is a new selfie accessory that has captured the imagination (not to mention the money) of the rich and famous. The product is called the LuMee, and it actually is a case that does much more than protect your handset.
What makes the LuMee different from other cases is the light it produces that bathes the selfie taker in a warm glow. This helps the selfie look like it was taken by a professional. The case is equipped with two vertical rows of LED lights, like the kind you might find on a vanity mirror. The brightness of the LED's can be adjusted by the user to make sure that he/she is snapped in the best, ahem, light.
As we said, celebrities have gone gaga over the LuMee including Kim Kardashian, who has been photographed using the case. And as you can imagine, sales are booming thanks to word of mouth.
"It totally contours your face, gives you high definition. It's as if you're in your own photo shoot with high-definition lights — but all the time, on your phone"- Jackie Miranne, host of US Weekly's Red Carpet Daily
There are some caveats. You can't sneak up on someone and take a selfie because of the light, and the light also brings attention to the selfie shooter. At $50-$60 the price of the LuMee $50-$60 makes it a stumbling block for some.
source:
NYPost