This basic phone costs only $12, made in China
18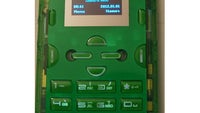 Quick, what's the most affordable phone you can think of? Loyal readers might remember the
Nokia 105
, which is already on sale in several countries for a price of about $15. This dirt-cheap cell phone, however, goes even lower – down to $12 apiece, to be more specific, with a charger, protective sleeve, and a data cable included in the set. And no, there's no carrier subsidy involved, in case you're wondering, as the device is being offered unlocked.
In terms of features beyond calling and texting, you don't really get a whole lot, which isn't much of a surprise given the handset's cost. Still, there's Bluetooth connectivity on board, slot for microSD cards, and MP3 playback, although a 3.5-millimeter headphone jack isn't present. The low-res OLED screen can display two colors – yellow and cyan.
Purchasing this cheap phone, however, might not be easy unless you live somewhere near China. But even if you could, would you really get one, be it for using it as a back-up phone or as a guinea pig to perform hardware hacking experiments on? Let us know down in the comments!