This Windows 10 for mobile concept is out there, but we like it
8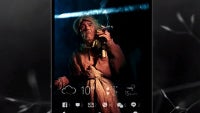 What if Windows 10 for mobile devices was a mash-up between three distinct platforms – some Android here, some Windows desktop-esque elements there, and, of course, a good pinch of Windows Phone-like tile goodness? A Windows 10 for mobile concept by one Iraqi artist gives us just that.
We don't think that this is what the Windows team over at Microsoft will be going for. Some concepts, however, are supposed to be "out there" by definition.
This
is out there. It showcases a widget-heavy version of Microsoft's mobile platform that is overwhelmingly gestures-oriented. As mentioned, some parts of the UI are also mirroring functionality and design choices we're more used to on our desktop computers – a simulation of Window's Task Manager's Performance tab being one of them.
As you may know, we're now hours away from Microsoft's scheduled "The Next Chapter" event, which will take place on January 21st in Redmond. At it, the Windows team, along with various Microsoft execs are expected to talk about its plans for Windows 10 and how phones and tablets figure into it. The even will be live-streamed, so stay tuned. Until then, check out the concept below.